Calendar of Events
Want to learn more about Lake Champlain or get involved with efforts around the lake? LCC offers presentations about various aspects of the lake and its management. We also sponsor or participate in various efforts to increase environmental awareness or make a difference for the lake. Below is a sample of venues and events. To schedule an event in your area please contact LCC at 802-658-1414 or lcc@ lakechamplaincommittee.org.
August 25, 2015 - Green Drinks
Tuesday, August 25
6:00-8:00 PM
The Bar Room at the Skinny Pancake
LCC is excited to be featured as the highlight of this month's Green Drinks hosted by the Skinny Pancake. Green Drinks is a monthly gathering on the last Tuesday of every month in Burlington and the second Tuesday of the month in Montpelier where engaged members of our community can meet to network and learn about green initiatives in Vermont.
Come enjoy food, beverages, and good conversation at this event with no cost to you!
Public Meetings on New Pollution Reduction Targets
August 26, 2015
6:00 to 8:00 PM
Bliss Room, St. Albans Historical Society, 9 Church Street, St. Albans
August 27, 2015
10:00 AM to 12:00 PM
Burlington Doubletree, 1117 Williston Road, South Burlington
August 27, 2015
2:00 PM to 4:00 PM
Fox Room, Rutland Free Library, 10 Court Street, Rutland
The U.S. Environmental Protection Agency (EPA) and the State of Vermont are holding a series of public meetings in August to discuss new pollution reduction targets - often referred to as a TMDL - to prevent pollution from flowing into Lake Champlain and its tributaries.
These meetings will allow the EPA to present the Lake Champlain phosphorus reduction plan called a "Total Maximum Daily Load" (TMDL) that will place a cap on the maximum amount of phosphorous that is allowed to enter the Lake and still meet Vermont's water quality standards. EPA anticipates releasing the TMDL by August 14, which will begin a 30-day public comment period.
For further information or for a copy of the TMDL following the anticipated August 14th release:
EPA information on Vermont Lake Champlain Phosphorus TMDL:
http://www.epa.gov/region1/eco/tmdl/lakechamplain.html
VTDEC Restoring Lake Champlain Page:
http://www.watershedmanagement.vt.gov/erp/champlain/
September 13,2015 - Lake Champlain Open Water Swim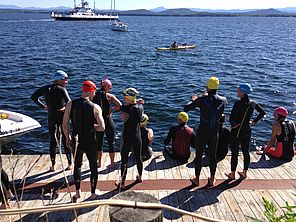 Donations to benefit the Lake Champlain Committee
This event is a 3.76 mile open swim across Lake Champlain starting in Essex, NY and ending at the Charlotte public beach in the town of Charlotte, VT. Rain or shine.
Participants must be 18 or older, have experience swimming in open water, and completed at least a 2 kilometer swim or race. Registration fee is $45 ($55 after August 15, 2015).
Registration covers a T shirt, timing of each participant, safe swimming course, drinks and energy food at the arrival. A winning cup for the 3 first places in the men and women category.
Donations separate from registration fee will help LCC work to combat invasive species, reduce nutrients and toxins and other projects.
Participating swimmers are encouraged to gather pledges to benefit the Lake Champlain Committee's work for clean, accessible water.
To register or donate to LCC, click here.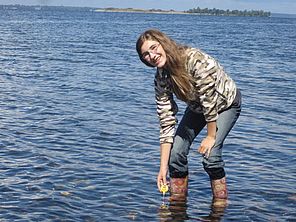 Help assess Lake Champlain water conditions around the lake. Complete our blue-green algae monitor form if you're interested in monitoring during the 2015 season or want to attend a training session to learn more about the lake. Feel free to share this invite with other lake lovers.
Monitoring will begin the week of June 14 and run through at least Labor Day with as many monitors as possible continuing to collect data until the end of September. Both new and returning monitors need to receive annual training. Participants must have weekly access to the same shoreline location (either public or private) and be able to file online reports. The program provides critical data on where and when blooms are happening and is relied on by citizens as well as health, environmental and recreation agencies. It also adds to understanding on the trigger for blooms so we can reduce their frequency. Data from the monitoring program is regularly uploaded to the Lake Champlain blue-green algae data tracker map hosted by the Vermont Department of health and accessible to anyone with internet access.
The following monitor training sessions are free and open to the public but please pre-register to ensure we have enough space and materials. Presentations will last about an hour and provide background about blue-green algae, guidance on how to differentiate it from other lake phenomena, instructions for assessing water conditions, and actions to take to reduce blooms. Stay tuned for additional dates and locations of other upcoming training sessions. Contact us at lcc@ lakechamplaincommittee.org or (802) 658-1414 if you have any questions or would like to help organize a training session for your community.
Tuesday, June 2 at 12:15 PM
Essex Town Hall
2313 Lakeshore Rd, Essex, NY
Tuesday, June 2 at 3:00 PM
Button Bay Bed and Breakfast
1224 Arnold Bay Rd, Panton, VT
Thursday, June 4 at 6:00 PM
Lake Champlain Committee Office
208 Flynn Avenue, Building 3, Studio 3F, Burlington, VT
Pizza and refreshments will be provided. RSVPs required.
Friday, June 5 at 9:00 AM
Kingsland Bay State Park Hawley House
787 Kingsland Bay State Park Rd. Ferrisburgh, VT
Thursday, June 11 at 10:00 AM
Lake Champlain Committee Office
208 Flynn Avenue, Building 3, Studio 3F, Burlington, VT
Bagels and refreshments will be provided. RSVPs required.
Thursday, June 11 at 6:00 PM
Plattsburgh Public Library
19 Oak Street, Plattsburgh, NY
Friday, June 12 at Noon
Missisquoi National Wildlife Refuge
29 Tabor Road, Swanton, VT
Friday, June 12 at 2:30 PM
Lake Champlain Basin Program Office
54 West Shore Road, Grand Isle, VT
Tuesday, June 16 at 3:30 PM
Crete Memorial Civic Center
Crete Center Road, Plattsburgh, NY
Wednesday, June 17 at 3:45 PM
Shelburne Town Center Activity Room
5420 Shelburne Road, Shelburne, VT
LCC's blue-green algae monitoring program is conducted in collaboration with New York and Vermont public health and environmental agencies and the Lake Champlain Basin Program. We are grateful for funding support from LCC members, the Vermont Department of Health and the Lake Champlain Basin Program for the 2015 season.
Stay tuned for additional training session dates and locations as the 2015 season approaches. Contact us at lcc@ lakechamplaincommittee.org or (802) 658-1414 if you have any questions.
---