Calendar of Events
Want to learn more about Lake Champlain or get involved with efforts around the lake? LCC offers presentations about various aspects of the lake and its management. We also sponsor or participate in various efforts to increase environmental awareness or make a difference for the lake. Below is a sample of venues and events. To schedule an event in your area please contact LCC at 802-658-1414 or lcc@ lakechamplaincommittee.org.
March 16-22, 2015 – Fix a Leak Week
Hosted by the US Environmental Protection Agency, LCC and other WaterSense partners
More than one trillion gallons of water are lost annually in the U.S. due to easy-to-fix household leaks. Fix them during Fix a Leak Week!
If your faucet drips or your toilet runs it can waste over 10,000 gallons a year -- the amount of water in a typical backyard swimming pool. Finding and fixing leaks around the home can be as simple as check, twist and replace.
Check toilets - put a few drops of food coloring into the tank; wait a few minutes and see if the color appears in the bowl before you flush. If it does, there's a leak.
Twist on aerators - add new WaterSense labeled faucet aerators and showerheads and tighten pipe and hose connections to save water.
Replace leaking fixtures - be sure to choose WaterSense labeled fixtures when building or rennovating. They are independently certified to use 20 percent less water and perform as well or better than standard models.
LCC, the US Environmental Protection Agency and other WaterSense partners are promoting a week focused on water conservation. Wasting water wastes energy and money and can contribute to lake pollution. Get a jump on the week by reviewing your water bills and seeing how much water you consume, then visit LCC's Water Conservation page or EPA's WaterSense site for additional water saving tips. Of course remember you can fix leaks and save valuable water and money all year long too, not just during Fix a Leak Week!
March 17, 2015 - Clean Water Day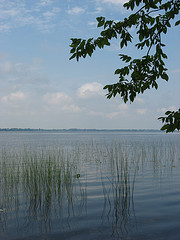 Sponsored by LCC, Vermont Conservation Voters, Vermont Natural Resources Council, Sierra Club Vermont, Toxics Action Center, and Watersheds United Vermont.
Vermont State House, Room 11
Montpelier, VT
9:30 am - 12 noon
Come learn about pending water legislation and show your support for clean water!
For more information contact Lori Fisher at lorif@lakechamplaincommittee.org (RSVP helpful!)
March 19, 2015 - World Water Day CBEI Celebration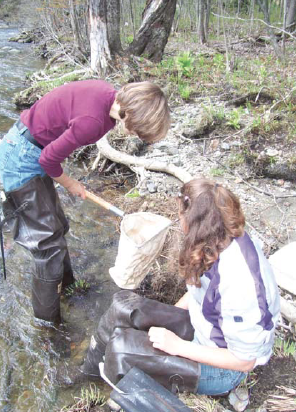 Sponsored by LCC and other Champlain Basin Education Initiative partners
Main Street Landing Performing Arts Center
4:30 - 6:30 PM
Celebrate World Water Day in 2015 with student artwork and a lake presentation!
4:30 PM - Light Refreshments & viewing of student artwork
5:00 PM - Guest speaker Rachael Miller, co-founder of Rozalia Project, will be presenting. Miller has extensive experience on and in the sea sailing, studying underwater archaeology (Brown University), marine mammals, and teaching everything from how to pilot ROV's to designing and running Rozalia Project's programs.
6:00 PM - Celebration of Student Work - K-12 classes and homeschool groups will submit writing, videography, photography and art related to four water and science themes.
April 2015 - April Stools' Day
Hosted by the Lake Champlain Committee
The Lake Champlain Committee (LCC) doggedly urges citizens to join in April Stools' Day events to clean up pet and other waste from parks, trails and recreation areas. Stay tuned for more details regarding organized events and cleanups during April 2015.
While most pet owners conscientiously pick up after their dogs, pets with irresponsible owners leave reminders all around for the rest of us to deal with. All those poop piles add up. In addition to making our recreation areas unsightly they can cause health and water quality problems. Pet waste carries nutrients that feed the growth of weeds and algae in the water. EPA estimates that two or three days' worth of droppings from just 100 dogs contributes enough bacteria to temporarily close a waterbody to swimming and fishing. Woof-waste doesn't make good fertilizer; it burns grass and leaves unsightly discoloring. Infected pet poop can carry the eggs of roundworms and other parasites (like cryptosporidium, giardia, and salmonella) which can linger in soil for years. Anyone gardening, playing sports, walking barefoot, or digging in the infected dirt, risks coming into contact with those eggs. Children are most susceptible since they often play in the dirt and put things in their mouths.
Fridays in May 2015 - Bird Walks with LCC
Hosted by the Lake Champlain Committee
Oakledge Park – End of Flynn Avenue, Burlington, VT
8:00 AM
Join LCC Staff Scientist Mike Winslow for Friday morning bird walks in May beginning at Burlington's Oakledge Park. Stroll along the lakeshore and learn to identify birds by sight and sound. Take in Lake Champlain and Adirondack views, learn about birds and ask lake questions.
Our final bird walk of the spring will be on May 29 and end with a light breakfast on the back porch of LCC's 208 Flynn Avenue office.
Events are rain or shine. Meet and park at Oakledge Park (parking fees apply after Memorial Day).
May 2015 - Way to Go Week
Sponsored by LCC and the Way to Go Partners
Way to Go is an annual program co-founded by LCC to reduce carbon pollution and promote environmentally sustainable transportation options. Way to Go week encourages the use of cheaper, healthier, more earth-friendly alternatives to driving alone. Individuals, businesses, schools, organizations can all easily participate. Just pledge to get to work, school or play by walking, biking, carpooling, taking the bus or telecommuting at least one day during the event week. Stay tuned for more event details and final dates as May 2015 approaches.
2015 Blue-green Algae Monitor Training
Help assess Lake Champlain water conditions around the lake. Complete our blue-green algae monitor form if you're interested in monitoring during the 2015 season which runs from mid-June through Labor Day. Both new and returning monitors need to receive annual training. Participants must have weekly access to the same shoreline location (either public or private) and be able to file online reports. The program provides critical data on where and when blooms are happening and is relied on by health, environmental and recreation agencies.
Stay tuned for monitor training session dates and locations as the 2015 season approaches. Contact us at lcc@ lakechamplaincommittee.org or (802) 658-1414 if you have any questions.
July 25, 2015 - Regatta for Lake Champlain
Hosted by Regatta for Lake Champlain and Rock Point Advisors
Benefiting LCC and other organizations
(802) 658-3023
The Regatta for Lake Champlain, presented by Rock Point Advisors is the most unique race in the region. It is the only race hosted on Burlington's Waterfront, giving spectators a beautiful view of almost 50 sailboats, usually arriving under spinnakers (the colorful kite-like sail) into the harbor silhouetted against the Adirondack Mountains. As one of only a few certified Clean Regattas on Lake Champlain, all of the event's organizers and participants commit to a list of environmental best practices to keep our waterways healthy and vital including use of non-toxic cleaning products, recycling, composting, and reducing single-use, disposable containers.
Since 2004 the Regatta has raised over $100,000 for lake causes. Nearly $20,000 has been donated to the Lake Champlain Committee to support our water quality protection and lake access work.
Stay tuned for more details as the race approaches!
September 13,2015 - Lake Champlain Open Water Swim
Donations to benefit the Lake Champlain Committee
This event is a 3.76 mile open swim across Lake Champlain starting in Essex, NY and ending at the Charlotte public beach in the town of Charlotte, VT. Rain or shine.
Participants must be 18 or older, have experience swimming in open water, and completed at least a 2 kilometer swim or race. Registration fee is $45 ($55 after August 15, 2015).
Registration covers a T shirt, timing of each participant, safe swimming course, drinks and energy food at the arrival. A winning cup for the 3 first places in the men and women category.
Donations separate from registration fee will help LCC work to combat invasive species, reduce nutrients and toxins and other projects.
Participating swimmers are encouraged to gather pledges to benefit the Lake Champlain Committee's work for clean, accessible water.
To register or donate to LCC, click here.
---