Calendar of Events
Want to learn more about Lake Champlain or get involved with efforts around the lake? LCC offers presentations about various aspects of the lake and its management. We also sponsor or participate in various efforts to increase environmental awareness or make a difference for the lake. Below is a sample of venues and events. To schedule an event in your area please contact LCC at 802-658-1414 or lcc@ lakechamplaincommittee.org.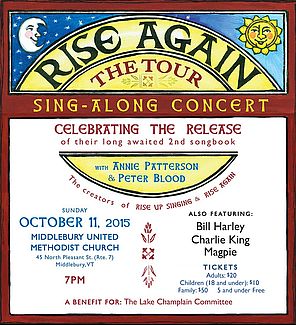 7:00 PM
Middlebury United Methodist Church
45 North Pleasant Street, Middlebury VT
Tickets are $20 for adults, $10 for children and youth under 18, $50 for a family, five and under attend free. Additional donations made at check out will support LCC's work for clean water. Click here to purchase tickets or the new singing book (which can be held for you at the concert).
Directions to the concert site
A sing-along concert with Annie Patterson and Peter Blood celebrating the release of their long-awaited second songbook Rise Again. Also featuring Bill Harley, Charlie King and Magpie, all of whom have songs in the new book.
The Power of Singing Together
Singing and music are the engines that power the human soul, the fuel that motivates us to build community, a source of pleasure and collective memory. This evening celebration of community singing will be led by the creators of Rise Up Singing and other musicians to introduce their newest collection of songs, Rise Again. Find out more about the featured artists and community partners.
In the spirit of folksinger and activist Pete Seeger, who nurtured the joy and power of community singing and worked tirelessly to improve the health of the Hudson River, this concert will benefit the Lake Champlain Committee. Be sure to fill in the "Donate to the Project" section of the online form to make a donation to LCC's work for clean, accessible water.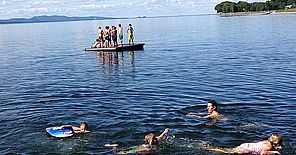 Thursday, October 15, 2015
6:00 - 8:00 PM
The FlynnDog Gallery and Chef's Corner South End restaurant area
Burlington, VT
Directions to the meeting
Join us at the Lake Champlain Committee's (LCC) 52nd anniversary party on Thursday, October 15, from 6:00 - 8:00 PM at the FlynnDog Gallery and Chef's Corner South End restaurant area at 208 Flynn Avenue in Burlington.
Hear about the "State of the Lake" from Bill Howland, Lake Champlain Basin Program Director, and get a copy of the recently released 2015 report.
Enjoy light fare of locally sourced food and drink, updates on LCC's lake protection work and conversations with others who share a love of the lake.
Register online or by calling the LCC office (802-658-1414). The first 25 households to register and attend will receive a set of our beautiful note cards or a music cd (one per party).
Register by 10/12/15 and be entered into special drawings for door prizes!
The Lake Champlain Committee Annual Meeting is free and open to LCC members, friends, and partners. Donations towards our lake work are appreciated.
---