News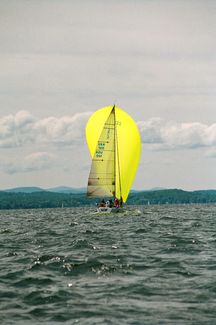 July 20 & 21 - Regatta for Lake Champlain
Get out on the water and support great lake-related causes - including the Lake Champlain Committee - by participating in the 2012 Regatta for Lake Champlain! The event kicks off Friday, July 20 at 8:00 PM at the Burlington Boathouse with a Sailors' Summer Party. Join fellow lake lovers for free appetizers, a cash bar, dancing and a 50/50 raffle. Tickets for the lake benefit are a suggested $10 donation at the door and attendees must be 21 years of age or older.
The Regatta Pursuit Race will be held on Saturday, July 21, at 11:30 AM just outside the Burlington breakwater. The "pursuit" race has a staggered start to eliminate the stress and jockeying of a traditional race. Participating boats are given a handicap based on the length of the course and the speed potential of the boat. Smaller boats start first. The appeal of the race is that it brings all the classes of boats to the finish line around the same time making for a fun and exciting conclusion! The Regatta is open to racer, cruiser, or daysailor sailboats. For pre-race party and race entry details, prize and award information, or to sign up a crew or sponsor a boat, go to www.RegattaForLakeChamplain.org.
In its ninth year, R4LC has given over to $78,000 to various local non-profit organizations that help to educate the community, protect water quality and health, preserve special places and bring history to life on Lake Champlain. Over $15,000 has been donated to the Lake Champlain Committee to support our water quality protection and lake access work.