April 23, 2017 - Plattsburgh April Stools' Day Clean Up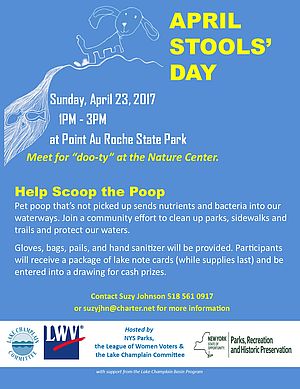 Sunday, April 23, 2017
1 PM - 3 PM
Point Au Roche State Park
19 Camp Red Cloud Road
Plattsburgh, NY
Help scoop the poop! Meet for "doo-ty"at the Nature Center (there will be signs directing volunteers). Pet poop that's not picked up sends nutrients and bacteria into our waterways. Join a community effort to clean up parks, sidewalks and trails to protect our waters.
Gloves, bags, pails and hand sanitizer will be provided. Participants will receive a package of lake note cards (while supplies last) and be entered into a drawing for cash prizes. Contact Suzy Johnson (518-561-0917 or suzyjhn@) for more information on the Point Au Roche clean-up. charter.net
This event is co-hosted by the Lake Champlain Committee, the League of Women Voters of the North Country, New York State Parks, Recreation and Historic Preservation.