April 30, 2018 - Mt. Philo State Park April Stools' Day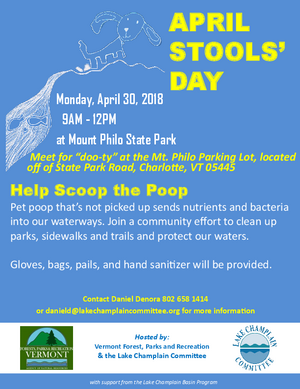 9:00 AM - 12:00 PM
Mt. Philo State Park
5425 Mt. Philo Rd.
Charlotte, VT 05445
Help clear your favorite trails of dog doo! Meet for "doo-ty" at the Mount Philo State Park parking lot at 9:00 AM to help keep your community healthy and waters safe. Pet poop that's not picked up sends nutrients and bacteria into our waterways. Join a community effort to clean up parks, sidewalks and trails to protect our waters!
LCC will supply gloves, bags, pails and hand sanitizer. Contact Daniel Denora at 802-658-1414 or danield@ for more information on the event. lakechamplaincommittee.org
This event is hosted by Vermont Forest, Parks and Recreation and the Lake Champlain Committee with support from the Lake Champlain Basin Program.