Spring 2019 - April Stools' & Scoop the Poop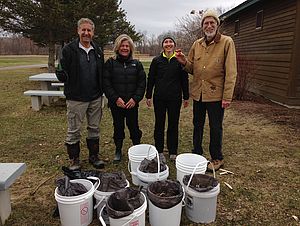 Stay tuned for April and May 2019 clean up dates and locations!
The Lake Champlain Committee will be co-hosting April Stools' Day and Scoop The Poop clean up events in April and May 2019! The winter months tend to make some dog owners forget to pick up after their canine companions. These forgotten hound mounds do not disappear with the spring melt, but instead runoff into our local waterbodies causing environmental and public health concerns. Join together with community volunteers to get rid of leftover pet waste in your neighborhood!
If you are interested in organizing a clean-up in your community, contact LCC's Education and Outreach Coordinator, Laura Pratt, so we can help facilitate some spring cleaning in your neighborhood.
Unable to Make It?
If you are unable to make it to April Stools' Day you can still help keep your community clean and healthy! Whenever you have time, head out to your favorite park, trail or neighborhood with gloves, plastic bags and a sturdy trowel and help scoop the poop. Wear a safety vest if working near roadways. Pet poop should be deposited in the garbage along with any other trash you find during your outings.
The Scoop on Dog Poop
Pet waste carries nutrients that feed the growth of weeds, algae and cyanobacteria in the water. EPA estimates that two or three days' worth of droppings from just 100 dogs contributes enough bacteria to temporarily close a waterbody to swimming and fishing. Woof-waste doesn't make good fertilizer; it burns grass and leaves unsightly discoloring. Infected pet poop can carry the eggs of roundworms and other parasites (like cryptosporidium, giardia, and salmonella) which can linger in soil for years. Anyone gardening, playing sports, walking barefoot, or digging in the infected dirt, risks coming into contact with those eggs. Children are most susceptible since they often play in the dirt and put things in their mouths.