August, 2018 - Lake Champlain Open Water Swim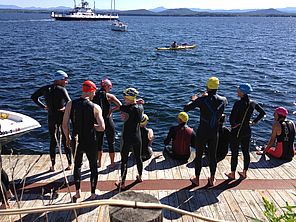 August, 2018
Exact date and location TBA!

The Lake Champlain Open Water Swim is a roughly 3.76 mile swim starting from the foothills of the Adirondack mountains, from the Old Dock in the quaint town of Essex, NY across Lake Champlain to the Charlotte public beach in the town of Charlotte, VT. Come out and support the swimmers in August, 2018 rain or shine!
Participants are encouraged to gather pledges for their swim to benefit Lake Champlain Committee's work for clean, accessible water.
The organizers reserve the right to cancel the race if it is too windy and the support craft cannot navigate. In this case the race will be held at a following date
Registration for the race will open in March, 2018 and will close a week before the race at midnight.
Day of the race - Sign up is between 8:00 AM and 9:00 AM in Essex. Cabins and Porta-potties will be available. Bring a bag with your name on it for your clothing. It will be transported to the finish area.
Race starts at 9:30 AM. Cut off time is 1:00 PM.
Award ceremony will held at Charlotte public beach at 1:00 PM. Drinks and Energy food will be available for the swimmers.