July 14, 2018 - Regatta for Lake Champlain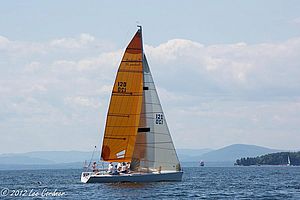 Hosted by Regatta for Lake Champlain
Benefiting LCC and other organizations
(802) 658-3023
The Regatta for Lake Champlain, the only sailing race hosted on Burlington's Waterfront, brings sailboats of all shape and size to the finish line around the same time. This pursuit race gives spectators a beautiful view of almost 50 sailboats, usually arriving under spinnakers (the colorful kite-like sail) into the harbor silhouetted against the Adirondack Mountains. As one of only a few certified Clean Regattas on Lake Champlain, all of the event's organizers and participants commit to a list of environmental best practices to keep our waterways healthy and vital including use of non-toxic cleaning products, recycling, composting, and reducing single-use, disposable containers.
We are excited to announce that VSV Charters (based at the Nanny Cay Marina & Resort on Tortola British Virgin Islands) has again offered a one week bareboat charter of a beautiful nearly new Hanse 415 sloop. Buy a raffle ticket now for the incredible chance to spend a week vacationing in the British Virgin Islands aboard this 2017 Hanse 415!
Raffle tickets for the charter are selling at $25 each. The winner will be announced at the Awards Party following the 15th Annual Regatta for Lake Champlain. Winner need not be present to win.
Click here to purchase your ticket: www.regattaforlakechamplain.org/bvi-charter-raffle
Since 2004 the Regatta has raised over $100,000 for lake causes. Nearly $20,000 has been donated to the Lake Champlain Committee to support our water quality protection and lake access work.