March 20, 2018 - World Water Day Celebration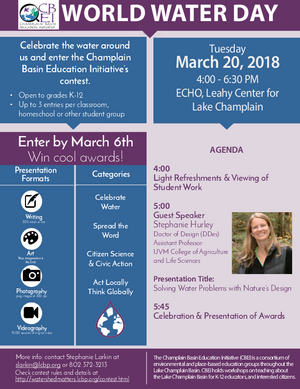 4:00 PM - 6:30 PM
ECHO, Leahy Center for Lake Champlain in Burlington, VT
Celebrate Lake Champlain and all our water resources around the world by joining the Lake Champlain Committee and our Champlain Basin Education Initiative partners on March 20 for a World Water Day Event at ECHO, Leahy Center for Lake Champlain!
The celebration will include a showcase of student artwork that was submitted for the World Water Day Contest, refreshments and a special address by UVM Associate Professor Stephanie Hurley (DDes) on "Solving Water Problems with Nature's Design"!
Appreciate the benefits that local and global water resources provide with your fellow lake friends and learn how environmentally passionate students value water.
Click here to learn more about entering the World Water Day contest. The submission deadline is March 6, 2018.