March 20, 2018 - World Water Day Story Contest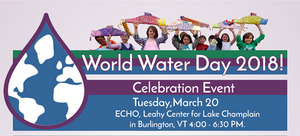 March 20, 2018
ECHO, Leahy Center for Lake Champlain in Burlington, VT
4:00 PM - 6:30 PM
Celebrate Lake Champlain, rivers, wetlands, streams, ponds and other water resources around the world by sharing your water stories! We are looking for the students of the upcoming generation to share how they use and appreciate the water resources that are important to them.
In honor of World Water Day, the Champlain Basin Education Initiative (CBEI) is hosting a contest to bring together inspiring water stories from K-12 students around the Lake Champlain watershed. Share what your amazing water resources mean to you using original photos, writing, art or videography.
Students' submissions must fit into one of the following categories:
Celebrate Water, Spread The Word, Citizen Science and Civic Action, Act Locally Think Globally
Entries must be received no later than 4:00 PM on Tuesday, March 6, 2018.
Open to all students in grades K-12 within the Lake Champlain watershed.
No purchase required to enter or to receive recognition.
Your class or group may submit a maximum of 3 entries.
Click here to view contest submissions from past years!
Click here to for more details on how to enter the contest.
All entries due March 6th! If you have further questions, please email slarkin@lcbp.org