March 6, 2018 - World Water Day Contest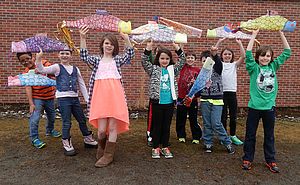 March 6, 2018 deadline
LCC and Champlain Basin Education Initiative Partners (CBEI) are sponsoring a World Water Day contest open to all K-12 students. Be inspired by the water around you and submit original photos, writing, art and videography by March 6, 2018. Submissions will be displayed at the March 20, 2018 World Water Day celebration from 4:00 PM – 6:30 PM at ECHO, Burlington, VT. Participants choose one of four categories ("celebrate water", "spread the word", "citizen science and civic action" or "act locally think globally") for their writing, art, photography or videography. Students are encouraged to work in teams and submit collaborative work. Click here to view contest submissions from past years and read on for further details and contest rules. Share this flier with educators, teachers and students to encourage participation.
Contest details:
Entries must be received no later than 4:00 PM on Tuesday, March 6, 2018.
Open to all students in grades K-12 within the Lake Champlain watershed.
Entries by participants under 18 must have an adult representative.
No purchase required to enter or to receive recognition.
A class or group may submit a maximum of three entries.
Awards will be team-based to encourage group work and collaboration.
A team can include many people – a classroom, several classrooms, entire schools or more!
Contact Stephanie Larkin by email at slarkin@ with any questions. lcbp.org
If your class needs more time beyond the March 6 deadline to finish their project, please let LCBP know by Tuesday, March 6th, 2018.
Contest rules:
All entries must be about water -- Lake Champlain, brooks, ponds, other US or world lakes, or other water resources.
A competition entry form must be completed for all entries.
Writing
Entries must be 300 words or less.
Art
If your art entry is larger than 11x17 please contact us so we can determine display requirements.
If you wish to have your original art returned to you, you have two options: pick up the artwork at the event on March 22 or provide a self- addressed stamped envelope.
Photography
All entries must be original.
Use the highest setting on the camera. For the image to be clear, photos must be at least 3 megapixels, but preferably 6 megapixels or higher.
ONLY JPEG images will be accepted
Photographs may be emailed to lcbp@. The LCBP will plan to print photos in 8 X 10 inch format for exhibit purposes. lcbp.org
Videography
All parts of each video entry must be your original video including any music you wish to include.
Entries must be 15-120 seconds in length.
All entries must be uploaded to YouTube and a competition entry form must be completed. The entry form must provide a link to the YouTube URL.
Click here for complete rules and here for the Entry and Photo Release Forms.