October 23, 2019 - Imagine a Day Without Water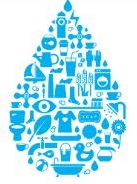 Could you imagine a day without water? No water to drink, or even make coffee. No way to shower, wash the dishes, or do laundry. Hospitals would close without water. Farmers couldn't water their crops, or keep their animals alive.
Most Americans take water for granted. They turn on the tap, and clean water flows out. They flush the toilet, and dirty water goes away. Most Americans hardly think twice about the infrastructure that brings water to their homes, and safely returns water to our environment – but they should. The reality is that our water infrastructure is aging and failing. Demographic and climate pressures, such as increased natural disasters, drought, flooding, and wildfire, threaten our infrastructure and increase the possibility of a day without water.
We as a community can take steps to conserve water and protect our natural resources. The Lake Champlain Committee is partnering with the Environmental Protection Agency to promote the WaterSense Program, which gives individuals and organizations tips on saving water. Meanwhile, stay tuned for our annual Fix a Leak Week in March 2020!
Some communities in America already know how impossible it is to go a day without clean, reliable water. What we take for granted isn't always a reality. Imagine a Day Without Water 2019 is the fifth annual day to raise awareness across the country about the value of water.
Learn more here about Imagine a Day Without Water 2019, and tell your water story with #ValueWater today!