September 7, 2019 - Celebrating Sacred Waters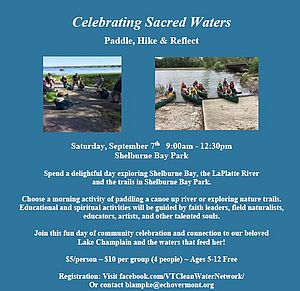 Join LCC and other Clean Water Network partners as we celebrate the lake we love by spending the day exploring Shelburne Bay, the LaPlatte River and the trails at Shelburne Bay Park. This event will include opportunies to paddle, explore, and educate yourself about Lake Champlain with faith leaders, field naturalists, educators, artists and more!
Open to the public and boats are provided.
Participants are welcome to bring a picnic lunch and gather after!
No private crafts please.
Click here for more information on the event.

Space is limited - register now!