October 12, 2017 - 54th LCC Annual Meeting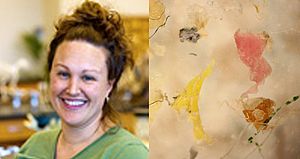 Thursday, October 12, 2017
6:00 - 8:00 PM
The FlynnDog Gallery and Chef's Corner South End restaurant
Burlington, VT
Directions to the meeting
Enjoy light fare of locally sourced food and drink (including beer and cider!), hear a lake expert's guest address on microplastics in Lake Champlain, take home a microbead-free exfoliate and possibly a door prize, all while sharing a fun evening with other lake lovers!
Register online or by calling the LCC office (802-658-1414) by 10/12/17 to be entered into our door prize drawing for gourmet chocolates, gift certificates, happy lights and more!

Microplastics in Lake Champlain: Sources, Impacts and Prospects
Guest speaker Dr. Danielle Garneau is an Associate Professor of Environmental Science at SUNY Plattsburgh. She specializes in wildlife ecology and her research focuses on a variety of topics ranging from roadkill mapping to surveying microplastics. Her microplastics research began as a collaboration with Dr. Sherri Mason of SUNY Fredonia and involved collecting and analyzing effluent from wastewater treatment plants (WWTP) to identify microplastics entering Lake Champlain. Working in partnership with Lake Champlain Sea Grant, Dr. Garneau is helping to quantify and map distributions of microplastics in the lake's zooplankton populations and identify their sources. At LCC's meeting she'll share information on how microplastics enter waterways, their potential effect on lake ecology and human health, and what can be done to combat microplastic pollution.
Microplastics are now found in oceans and on beaches around the world including Lake Champlain. Microplastics originate from a variety of sources and are abundant in our environment due to the almost infinite number of ways we use plastic products in our society. Microplastic pollution is a relatively new field of research. Much is still unknown about the effects on ecology and human health. Traces of microplastics have been found to bioaccumulate at nearly every level of the food chain, including larger marine organisms regularly consumed by humans. Although the health impacts of microplastics are still being studied, chemical compounds found in plastic products have been associated with impaired brain development, learning disabilities and increased incidences of cancer.
Take Home A Microbead-free Skin Care Product
Pick up a jar of our microbead-free coffee exfoliant (while supplies last) along with a recipe to make the scrub in your home kitchen. Made with local honey from LCC member John Little and leftover grinds from area coffee shops, LCC's homemade concoction uses natural cleaning agents to give your skin a buzz without fouling the water.

Great Food and Drink!
Sincere thanks to the following businesses for providing support and delicious food from the Champlain Valley for our gathering: B.Good, Cabot, Chef's Corner South End, El Gato Cantina, Engineering Ventures, Farmhouse Provisions, FlynnDog Gallery, Great Harvest Bread Company, Holiday Inn Burlington, Lake Champlain Chocolates, Magic Hat Brewing Company, New Moon Cafe, Saratoga Olive Oil Company, Shelburne Orchards, Speeder & Earl's Coffee, Stewart's Bakery, Sugarsnap Vermont Catering, Verilux, Vermont Creamery, and Vermont Smoke and Cure!
Please RSVP
Register online or by calling the LCC office (802-658-1414). RSVP by 10/12/17 to be entered into our door prize pool. You could win a Keurig coffee maker, Verilux Happy Light, Gift certificates from restaurants such as Great Harvest Bread Company and New Moon Cafe, LCC's natural history book and more cool prizes. You must attend the party to receive a prize.
Email Daniel Denora at danield@, LCC's new ECO AmeriCorps Education & Outreach Coordinator, if you'd like to volunteer at the LCC annual meeting. lakechamplaincommittee.org