Here are a few ideas for how to celebrate our planet from your friends at the Lake Champlain Committee:
Take the lake protection pledge - Protecting Lake Champlain's health is the shared responsibility of all of us who live in or visit the watershed. You can play an active role by following specific steps to protect water quality around your home, yard, and community such as picking up after pets, using phosphorus-free fertilizer (it's the law), and keeping stormdrains clear of debris. Sign the online pledge to formally commit!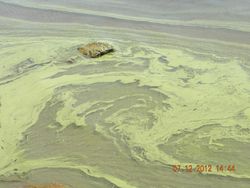 Monitor for Blue-green Algae - We're gearing up for the summer monitoring season and are looking for people who can regularly report on water conditions. Blue-green algae monitors receive training to assess water conditions, visit the same site throughout the season and file a weekly online report from mid-June through Labor Day. The program provides critical data on where and when blooms are happening and is relied on by public health and environmental agencies to assess whether the water is safe for recreation. It also adds to our knowledge about the triggers for blooms so we can reduce their frequency. Let us know if you have a lakeshore location you'd like to monitor.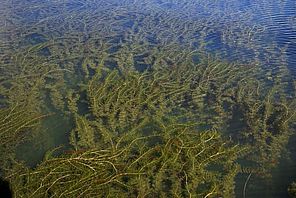 Patrol for Invasives - LCC is partnering with the Vermont Agency of Natural Resources to get more people out on the water reporting about aquatic invasives. Early detection is key to controlling or eradicating new populations. Help protect the lake's biodiversity by becoming a VIP - Vermont Invasive Patroller. Patrollers will be trained to identify and distinguish native species from invasive ones and to conduct systematic on-the-water surveys. VIPs need to participate in a half day informational workshop, have access to a boat, and submit two survey reports per year.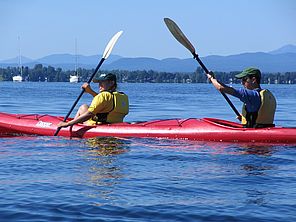 Steward the Trail - We're looking for accomplished paddlers to help check remote Trail locations and areas without on-site managers. Bay Park Beach in Shelburne, Schuyler Island in Chesterfield, Point Au Roche in Plattsburgh, Niquette Bay in Colchester, and Mill River Falls Parcel in Georgia are in need of stewards. You can also help mind the Trail by serving as an "at large steward" and report on any Trail locations you visit during the paddling season. It's a great way to get out on the water!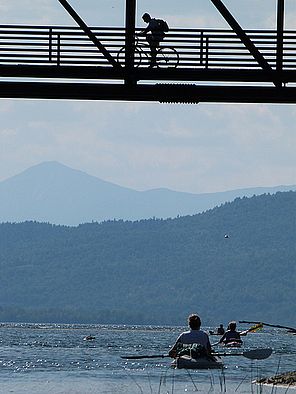 Go out for Earth Day – Outside that is. Stroll, hike, bike, paddle, run, or fish in the great outdoors. Breath some fresh air, take in the sunshine – or the rain, watch the stars. Commune with nature. Getting out into the greenery can brighten your mood and improve your health. Research indicates that spending time in natural areas makes people happy and speeds recovery from stress and fatigue. Plants and trees are living, breathing air filters - they detoxify the air by absorbing many substances that can be harmful to humans, like excess carbon dioxide and dust particles. Exercising on natural terrain like hills, fields or in water helps improve musculoskeletal health. Celebrate the forests, wetlands, meadows, mountains, shoreline and waterbodies of mother earth by exploring!
Please email us or fill out our online form if you're interested in any of our volunteer opportunities.
Thanks for all you do!
The LCC Team