Diverse Coalition Endorses Clean Water Authority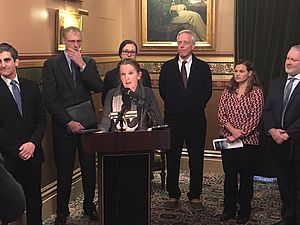 Vermont business, municipal, and environmental leaders came together in January to express shared support for long-term clean water funding via a parcel fee, and the establishment of a Clean Water Authority to collect and distribute those funds to on-the-ground clean water projects throughout the state. Groups endorsing the measure included the Lake Champlain Committee (LCC), Vermont Conservation Voters, Vermont Natural Resources Council, Lake Champlain Regional Chamber of Commerce, Pomerleau Real Estate, and the Vermont League of Cities and Towns.
"Clean water is essential to our health, economy and to our quality of life," said Lori Fisher, LCC Executive Director. "To protect and restore our water resources we must secure long-term funding and develop a mechanism to oversee the distribution of funds. The Lake Champlain Committee supports the establishment of a Clean Water Authority that is independent, accountable, and has the ability to raise and distribute monies to protect and reclaim the health of our waterways."
In a letter to the Vermont Legislature, the groups voiced their strong support for core provisions in two water quality funding bills introduced this session (S.260 and H.564), which call for the establishment of long-term funding for water quality improvements by creating a Clean Water Authority. However, they called on lawmakers to make critical amendments to both bills to require revenue collection by the Authority itself, rather than through Vermont's local governments or a State agency.
"The innovation of this proposed Authority is not the creation of parcel based fees for clean water improvement projects; rather, it's the combination of independence, accountability, and financial capacity," said VNRC Policy & Water Program Director Jon Groveman. "These are common sense steps Vermont should take to protect the health of Vermonters and our irreplaceable water resources."
"The Chamber and its collaborative business partners view the creation of a Clean Water Authority as the first affirmative step forward in the near two-decade debate over how best to ensure clean waters in Vermont. Our motto is, and has been, "Cleaner Water, Faster", and the 'all-in' statewide authority is the best chance we have to move from analysis to action," said Tom Tori, president of the Lake Champlain Regional Chamber of Commerce.
Karen Horn, Director of Public Policy for the Vermont League of Cities and Towns said, "The Vermont League of Cities and Towns supports establishment of an independent Clean Water Authority that combines accountability for making cost effective investments in water quality with the capacity to raise, collect and assure dedication of funds to water quality projects. We look forward to working with the legislature to establish the framework for an authority that accomplishes all of these goals."
"Rarely do we see businesses, municipalities, environmental advocates, and regional planners aligning on a proposed policy solution of this magnitude," noted Brian Shupe, VNRC's Executive Director. "What unites us is the innovation behind a true Clean Water Authority that marries accountability for clean water with the ability to directly raise funds for clean water and complete clean water improvement projects across the state."
"We commend Senators Bray and Lyons, and Representative Deen for their leadership on this issue," said Dom Cloud, St. Albans City Manager. "We urge the legislature to follow their lead and improve these bills by vesting this new Authority with the ability to raise the funds and be directly accountable for producing results."
Click here to read the letter provided to the Legislature.