Dom Brennan - ECO AmeriCorps Education & Outreach Coordinator
Raised on the coast of Massachusetts, Dom spent the better part of ten years diving into water issues. Whether taking bacteria samples for a municipal Board of Health or leading elementary school students in clean ups of local marshes and beaches, Dom's service-oriented attitude has led him on a myriad of outdoor adventures. He lived in a yurt in the Adirondacks for a semester in college, where he had to haul water for daily use from a quarter mile away and canoe across Lake Massawepie to get to the nearest road. After graduating from St. Lawrence University in 2015 with a combined degree in Environmental Policy and Sociology, Dom headed south to Knoxville, Tennessee.

Serving as one of seven AmeriCorps members for Knox County Stormwater, Dom taught students ages 14 to 18 about pollution prevention, oversaw construction of a permeable concrete parking lot to reduce stormwater runoff from a local school, and helped maintain rain gardens to improve water quality. He joined LCC in the fall of 2016 and immediately put his stormwater management skills to good use implementing LCC's School Stormwater Assessment Project. When he's not poring over GIS maps and assessing flow patterns during storm events, he's busy organizing outreach programs like April Stools Day and our Toxic Reduction Awareness Campaign, assisting with Paddlers' Trail projects and gearing up for an active summer season on and around the water. We look forward to his continued service with LCC!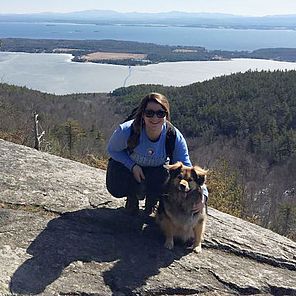 Alexa Hachigian joined the LCC staff in 2015, taking over for Jessica Rossi who left to pursue a private sector opportunity related to her botanical interests. Alexa is a graduate of the University of Rhode Island with a degree in Marine Affairs and she loves all things water-related. She grew up in Keeseville and has spent hours in, on and around Lake Champlain. When not managing LCC's office she can be found hiking, rock climbing, swimming, paddling, water-skiing, or playing soccer in the Champlain watershed.
"We're delighted that Alexa is putting her administrative skills and water interests to work for LCC," said LCC Executive Director Lori Fisher. "She's a great addition to the LCC team!"
Cliff Landesman Joins LCC Board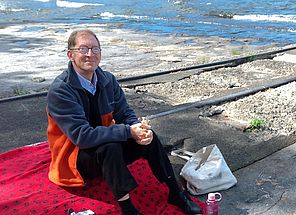 Cliff Landesman spearheaded LCC's 50th year Legacy Campaign and is now sharing his skills on a regular basis as an LCC Board member. A former resident of Burlington, Vermont, Cliff returns regularly to the Queen City to enjoy the perpetual beauty of Lake Champlain. He was the Director of Electronic Media at W. W. Norton & Co., a leading independent employee-owned book publisher. There he spearheaded several new initiatives, including ebook production for college and trade titles, online technical support, and the expanded use of national and international freelancers. Cliff has been involved with nonprofits for over 30 years, having formerly worked for the New York Public Library, Vermont Public Radio, Princeton University, and the Fund for the City of New York. In the early 1990s, he founded the Internet Nonprofit Center, one of the first web sites to provide comprehensive information about nonprofit organizations. He holds a BA from the University of Michigan, Ann Arbor, an MA from Oxford University, and a PhD from Princeton University. His PhD dissertation focused on "The Voluntary Provision of Public Goods." He lives with his wife and two children in Brooklyn, NY. He is an avid kayaker, cyclist, and star gazer. Most recently, he has taken an interest in the countless wild and wondrous, but rarely extolled denizens of the lake: the invertebrates.
Lisa Borre Expands LCC's Advisory Council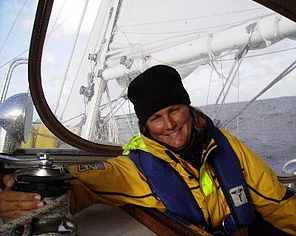 Lisa Borre has devoted her career to the conservation and management of lakes and wetlands around the world. She is currently a Senior Research Specialist at the Cary Institute of Ecosystem Studies and provides research support for Dr. Kathleen C. Weathers, co-chair of the Global Lake Ecological Observatory Network (GLEON). Among her duties, she coordinates development of Lake Observer, a mobile application for recording lake and water observations. "Lakes across the globe are facing challenges similar to those on Lake Champlain, from nutrient pollution, invasive species, harmful algae blooms, microplastics, and now climate change", notes Lisa. "I'm looking forward to helping LCC tackle these issues by networking with other like-minded groups and scientists around the world."
Prior to joining the staff at the Cary Institute earlier this year, Lisa was a freelance writer and consultant. She continues to write about global lake topics for National Geographic's Water Currents blog. Lisa co-founded LakeNet, a world lakes network that was active from 1998 to 2008, leading a global initiative to document and share lessons learned in lake basin management. From 1990-1997 she coordinated the Lake Champlain Basin Program, facilitating development of a comprehensive watershed plan. An avid sailor, she completed a five-year voyage with her husband aboard their 37-foot cutter-rigged sailboat to the Caribbean, Mediterranean and Black Seas. She co-wrote The Black Sea, a sailing guide based on research conducted while circumnavigating the sea in 2010. She grew up in the Great Lakes region and currently lives near the Chesapeake Bay in Annapolis, Maryland.