July 25 - Regatta for Lake Champlain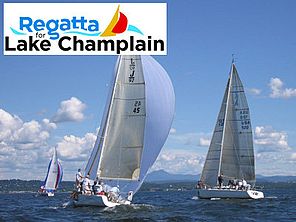 Get out on the water and support great lake-related causes - including the Lake Champlain Committee - by participating in the 2015 Regatta for Lake Champlain! The 12th annual Regatta will take place on Burlington's Waterfront on Saturday July 25. The family-friendly sailboat race raises money to promote the health, well-being, sustainable use and stewardship of Lake Champlain. You can enter your boat and crew (registration starts at $150) or make a donation in support of another boat. The race is a Clean Regatta certified by Sailors for the Sea and follows best environmental practices to minimize waste and protect water quality. The race will start just outside the Burlington Breakwater on Saturday, July 25 at 11:30 AM. This pursuit format race features a handicapped start so sailors and crews of all levels, from cruising to competitive racers, can participate. Anyone with a sailboat no matter how old or new can put together a crew. Registration closes on July 23 so sign up soon!
SEPTEMBER 13 - LAKE CHAMPLAIN OPEN WATER SWIM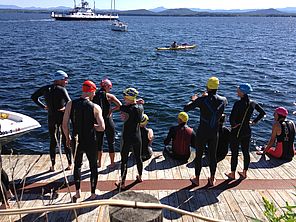 If you're a distance swimmer, consider participating in the 3.76 mile open water swim across this year. This second annual race across Lake Champlain begins in the Village of Essex, New York and ends at the public beach in Charlotte Vermont. A sailboat with a pennant at high mast will lead swimmers along a course marked with occasional floating buoys. Participants must be 18 or older, have experience swimming in open water, and completed at least a 2-kilometer swim or race. The race registration fee of $45 ($55 after August 15, 2015) covers a T shirt, timing, safe swimming course, drinks and energy food at the destination. All swimmers are encouraged to make a separate donation and gather pledges in support of LCC's work for clean, accessible water. You can make donations in support of a swimmer here. These donations are separate from the registration fee and will support LCC's work to reduce nutrients and toxins, combat invasive species and foster lake stewardship. Race organizers are looking for experienced kayakers who have completed open water crossings to accompany swimmers on race day. Learn further race details here.
To register or donate to LCC, click here.