Ballast - Stabilizing ships, destabilizing ecosystems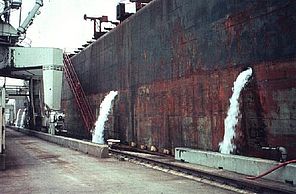 November 2009
Each year thousands of ships move between the Great Lakes and the Atlantic Ocean. Some carry more than cargo and crew; they hide animals or plants from distant lands. A new invasive species is found in the Great Lakes every 28 weeks on average. While throughout history species have expanded their ranges, only in modern times has such movement between continents, assisted by humans, been so easy and so frequent.
Species that arrive in the Great Lakes don't necessarily stay there. They travel, often eastward toward Lake Champlain. Intercontinental traffic brought zebra mussels to the Great Lakes, the original introduction point for all North American populations. Zebra mussels made their way through canals or attached to other boats, reaching Lake Champlain by the early 1990s, ten to fifteen years after first being seen in the Great Lakes.
Other species appear to be following the route of the zebra mussels. Spiny water flea, a plankton species less than half an inch long with a long tail that prevents fish from eating it, was first found in Lake Huron in 1984. In the summer of 2008 it jumped from the Great Lakes to the Great Sacandaga Reservoir in the southeast Adirondacks, just a short hop from Lake Champlain. Bloody red shrimp were first found in Lake Ontario in 2006 but in August researchers from Cornell discovered they had arrived in Oneida Lake in central New York. Not every species will have as dramatic an impact as zebra mussels, but we often don't know how serious an invasion is until after it has happened, and by then the effects can't be reversed.
Ballast water provides the most likely habitat for aquatic species making the trans-oceanic crossing. About sixty percent of invasive species in the Great Lakes entered via ballast water.
According to MIT Sea Grant, a program to support coastal resource use and conservation, "Ballast water is fresh or saltwater held in the ballast tanks and cargo holds of ships. It is used to provide stability and maneuverability during a voyage when ships are not carrying cargo, not carrying heavy enough cargo, or when more stability is required due to rough seas. Ballast water may also be used to add weight so that a ship sinks low enough in the water to pass under bridges and other structures. Usually ballast water is pumped into ballast tanks when a ship has delivered cargo to a port and is departing with less cargo or no cargo. Ballast water is then transported and released at the next port-of-call where the ship picks up more cargo. If a ship is receiving or delivering cargo to a number of ports, it may release or take on a portion of ballast water at each port. In such cases, the ship's ballast water contains a mix of waters from multiple ports."
Regulations to reduce the probability of species being transported via ballast water have been passed in New York, Michigan, and at the federal level. Minnesota and Wisconsin are also considering such regulations which would help prevent species transfers from the Mississippi River drainage.
Of course, laws are ignored unless there is a clear threat of enforcement. Thus, it was heartening to hear of the first ever enforcement of ballast water exchange laws. The violator was the Chief Officer of a ship that tried to dock in New Orleans. He and the ship's Captain pled guilty to trying to hide damage to the ship from the Coast Guard. They falsified records including ballast reports required under the Nonindigenous Aquatic Nuisance and Prevention Control Act.
As a result of the violations the company that owned the ship has been barred from trading in U.S. waters for three years and fined $2.7 million dollars. Additionally they will pay another $100,000 for invasive species research at the Smithsonian Research Center.
"Invasive marine species are a serious problem that can be transmitted in the ballast water of oceangoing vessels. Today's pleas should act as a warning to industry and crewmembers alike that we will investigate and prosecute those who ignore not only pollution laws but those laws designed to protect native species," said John C. Cruden, Acting Assistant Attorney General for the Justice Department's Environment and Natural Resources Division.
The problems and challenges that face Lake Champlain have their origins far beyond the borders of our region. It is encouraging to see actions at the federal level to not only create laws that protect our environment, but also act on them, vigorously prosecuting violators.
Lake Look is a monthly natural history column produced by the Lake Champlain Committee (LCC). Formed in 1963, LCC is the only bi-state organization solely dedicated to protecting Lake Champlain's health and accessibility. LCC uses science-based advocacy, education, and collaborative action to protect and restore water quality, safeguard natural habitats, foster stewardship, and ensure recreational access.
Get involved by joining LCC using our website secure form (at www.lakechamplaincommittee.org), or mail your contribution (Lake Champlain Committee, 208 Flynn Avenue - BLDG 3 - STUDIO 3-F, Burlington, VT 05401), or contact us at (802) 658-1414, or lcc@ lakechamplaincommittee.org for more information.