Lake Champlain is a tremendous public resource, accessible to anyone. From fishing to boating to swimming you'll find a recreation that you love. This page offers some locations where you can enjoy Lake Champlain.
State Parks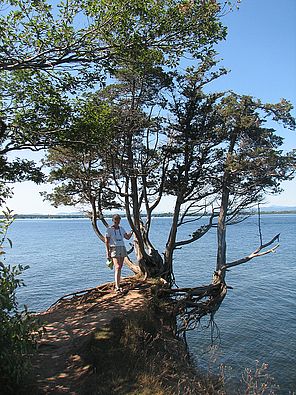 Vermont
Alburg Dunes, Alburgh - Day use site with a south facing sandy beach
Burton Island, St. Albans - 253 acre island with walking trails, campsites, and access via a passenger ferry
Button Bay, Ferrisburgh - Overnight and day use available
D.A.R., Addison - Overnight and day use available
Grand Isle, Grand Isle - A full facility park
Kill Kare, St. Albans - Popular recreational day use area with swimming
Kingsland Bay, Ferrisburgh - Popular day use area
Knight Island, North Hero - Primitive camping on an 185-acre island
Knight Point, North Hero - Day use area with swimming beach and boat rentals
North Hero, North Hero - Thick woods and old pasture with over 100 camp sites
Sand Bar, Milton - Popular recreational day use site with a sandy beach
Woods Island, St. Albans - Primitive camping on an island in Inland Sea
New York
Ausable Point, Peru - Camping, hiking, and a natural sand beach
Crown Point, Crown Point - Visit the ruins of revolutionary era Fort St. Frederic
Cumberland Bay, Plattsburgh - Day use, camping and a natural sand beach
Point Au Roche, Beekmantown -large day-use area, a protected, sandy beach, picnic facilities and concession stand
Public Beaches
In addition to the recreation resources below, most of the state parks listed above have swimming areas. Many of the beaches charge a fee for day use. Fees may vary for residents and non-residents of the municipalities who run the beaches.
Vermont
Ferrisburgh Town Beach, Ferrisburgh
Charlotte Town Beach, Charlotte
Shelburne Town Beach, Shelburne
Red Rocks Beach, South Burlington
Oakledge/Blanchard Beach, Burlington
North Beach, Burlington
Leddy Beach, Burlington
Bayside Beach, Colchester
White's Beach, South Hero
Cohen Beach, St. Albans
Maquam Beach, Swanton
New York
Ballard Park Town Beach, Westport
Port Douglas Beach, Chesterfield
Plattsburgh Beach, Plattsburgh
Boat Launches
There are over 50 public boat launches with access to Lake Champlain. They can be found up and down the lake. Below we have listed shoreline counties along Lake Champlain and the number of public launches found in each. We have also provided links for more information about specific state run boat launches in Vermont, and Essex and Clinton, Counties in New York.
Vermont
Rutland (1)
Addison (11)
Chittenden (13)
Franklin (7)
Grand Isle (15)
New York
Washington (1)
Essex (6)
Clinton (5)
Wildlife Management Areas (WMAs)
Federal
There is one National Wildlife Refuge in the Champlain Basin located in the northeastern portion of the lake.
Missisquoi National Wildlife Refuge, Swanton - 6,642 acres
Vermont
Maps and descriptions of Vermont's wildlife management areas can be found at the web site of the Vermont Department of Fish and Wildlife. The following WMAs are located on or very near Lake Champlain.
The Narrows, West Haven - 429 acres
East Creek, Orwell - 398 acres
Whitney/Hospital Creek, Addison - 157 acres
Dead Creek, Addison, Panton, Bridport - 2,858 acres
Little Otter Creek, Ferrisburgh - 1,402 acres
Halfmoon Cover, Colchester - 294 acres
Lower Lamoille River, Swanton - 234 acres
Sand Bar, Milton - 1,560 acres
Black Creek, St. Albans - 211 acres
Maquam, Swanton - 872 acres
Mud Creek, Alburgh - 1,151 acres
Rock River, Highgate - 296 acres
Missisquoi National Wildlife Refuge, Swanton - 6,642 acres
New York
Substantial parts of the New York's Lake Champlain shoreline are within the Adirondack Park. In addition to the park, the following Wildlife Management Areas can be found on or very close to Lake Champlain.
Putts Creek, Crown Point - 113 acres
Wickham Marsh, Chesterfield - 862 acres
Ausable Marsh, Peru - 580 acres
Montys Bay, Beekmantown - 216 acres
Kings Bay, Champlain - 421 acres