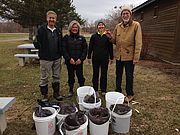 Come by for April and May clean-ups in Burlington, Colchester, Montpelier, Plattsburgh, South Burlington, St. Albans, and Williston. If you are interested in organizing a clean-up in your community, Contact LCC and initiate some spring cleaning on your own!
Email us the date of your outing along with photos and some details on what you picked up to be entered into our prize pool and get a set of lake note cards for your efforts.
See below for more information on upcoming pet waste clean-ups!

Read...