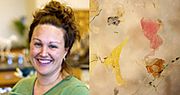 Thursday, October 12, 2017
6:00 - 8:00 PM
The FlynnDog Gallery and Chef's Corner South End restaurant
Burlington, VT
Directions to the meeting
Enjoy light fare of locally sourced food and drink (including beer and cider!), hear a lake expert's guest address on microplastics in Lake Champlain, take home a microbead-free exfoliate and possibly a door prize, all while sharing a fun evening with other lake lovers!
Register online or by calling the LCC office (802-658-1414) by 10/12/17 to be entered into our door prize drawing for gourmet chocolates, gift certificates, happy lights and more! Read...