April 24, 2017 - St. Albans City April Stools' Day Clean Up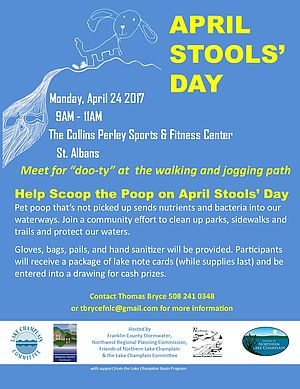 Monday, April 24, 2017
9 AM - 11 AM
The Collins Perley Sports & Fitness Center
St Albans City, VT
Help scoop the poop! Meet for "doo-ty" at the walking and jogging path. Pet poop that's not picked up sends nutrients and bacteria into our waterways. Join a community effort to clean up parks, sidewalks and trails to protect our waters.
Gloves, bags, pails and hand sanitizer will be provided. Participants will receive a package of lake note cards (while supplies last) and be entered into a drawing for cash prizes. Contact Thomas Bryce (508-241-0348 or tbrycefnlc@) for more information on the St Albans City clean-up. gmail.com

This event is co-hosted by LCC, Franklin County Stormwater, Friends of Northern Lake Champlain, and the Northwest Regional Planning Commission.