June 9, 2018 - Take a Stake in the Lake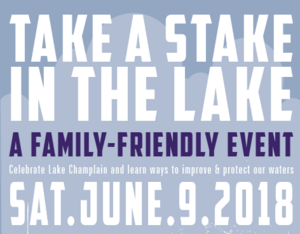 8:00 AM - 12:30 PM
St. Albans Bay Town Park
Join the Lake Champlain Committee in celebrating Lake Champlain, while learning about ways you can protect and improve our waters at the 2018 Take a Stake in The Lake! The town park overlooking St. Albans Bay will be packed with fun activities for friends of the lake to take part in throughout the day, highlighted with the Restore the Bay 5K and the Clean Water Fair. Enjoy prizes, free food and local brews for purchase!
Start the morning off with the Restore the Bay 5K Walk/Run! Make your way across the beautiful route from Kill Kare to St. Albans Bay Park to show your support for clean water. This timed race is open to all ages.
On site registration and check in: 8:00 AM
Shuttle buses leave Bay Park: 8:40 AM
Race start: 9:00 AM
For more info and race registration visit: http://www.saintalbanswatershed.org/2018_restore-the-bay-5K.html The first 100 people to register get a free t-shirt, so be sure to sign up soon!
After working up a sweat alongside the lake, learn about the many groups that strive to protect Lake Champlain at the Clean Water Fair! Browse informational displays of many lake advocates, agencies and associations. Learn about erosion prevention, native plantings, healthy soil practices, how you can reduce stormwater runoff and much more!
The Clean Water Fair will take place at St. Albans Bay Town Park from 10:00 AM - 12:30 PM.
There will also be plenty of activities for kids to enjoy, including fun races, face painting, bouncy houses and a surprise visit from Champ! Bring the whole family to enjoy a day dedicated to celebrating and protecting Lake Champlain.
Share this flier with fellow lake lovers:
http://www.saintalbanswatershed.org/5K_2018/SAAWA_walkPoster2018.pdf