April Stools' Day for Burl. & So. Burl.!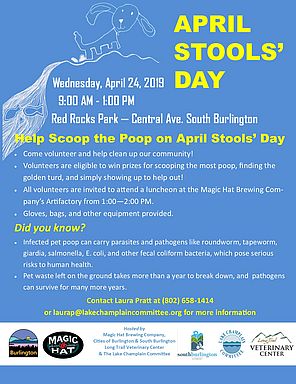 April 24, 2019
9 AM - 1PM poop scooping beginning at Red Rocks Park
1 PM - 2 PM lunch & awards at Magic Hat Brewing Company's Artifactory
Join LCC and Magic Hat Brewing Company as we scoop the poop at Burlington and South Burlington recreation areas! Volunteers will meet at South Burlington's Red Rocks Park at 9 AM and then head to Burlington's Leddy Beach, Roosevelt Park, Battery Park, and Oakledge Park for a fun community clean up.
We'll provide buckets, trash bags, gloves, hand sanitizer, camaraderie and a post pick-up luncheon. First, second and third prizes will be awarded for the biggest hauls of hound mounds and for finding the "golden stool" – which will be hidden at one of the parks to encourage thorough poop snooping. A post event lunch will take place at Magic Hat Brewing Company's Artifactory. (Don't worry, there will be ample opportunity to thoroughly wash up before eating!) Anyone of age who joins in the effort to pick up doggy doo will get a beer token good for a pint of beer on tap at the Artifactory during their hours of operation through the end 2019. RSVP below to let us know you're coming!