Freshwater Mussel Project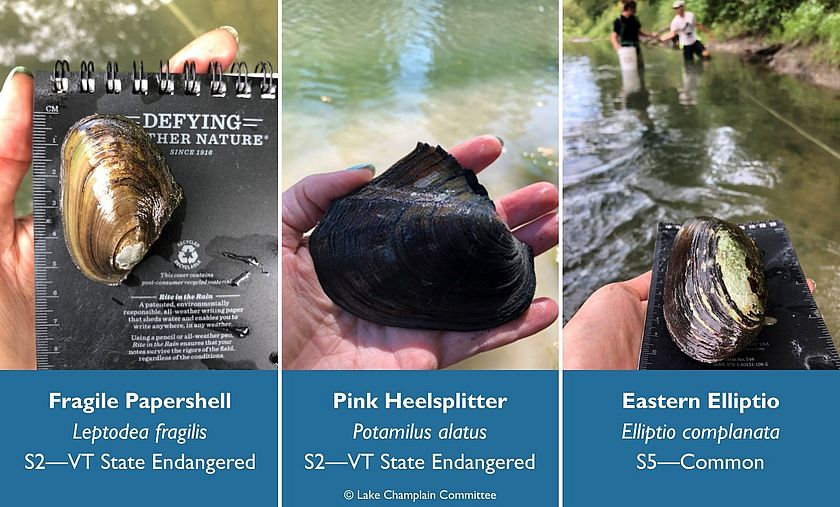 Native freshwater mussels are the most imperiled taxa in the Lake Champlain Basin. While invasive zebra mussels seriously threaten native freshwater mussel populations in the southern lake, their impact on populations in the northern lake is unclear. This field season, Lauren Sopher, LCC's Director of Science & Water Programs and Michael Lew-Smith, Ecologist and Partner at Arrowwood Environmental, will assess impacts to native mussel populations in Lake Champlain's Northeast Arm. They'll investigate native mussel population distribution, abundance, and health from Malletts Bay to St. Albans Bay. This project is the first step in the conservation process to ensure that this critical element of the lake's biodiversity remains intact.

You can help with the project by sharing anecdotal information where you've observed native freshwater mussel beds in the Northeast Arm of Lake Champlain by filling out the form below.
For the Latitude and Longitude section:
Go to Google Maps: google.com/maps.
Zoom in on our Study Area by typing "Milton" in the Google Maps search bar.
Zoom in as far as possible on the approximate location of the native mussel bed you observed and click. If you've observed more than one native mussel bed, enter each bed separately.
Copy and paste the latitude and longitude (coordinates) in the box below. For example: 44.576707, -73.199725.
For the physical description section:
A physical description of the native mussel bed location will help us navigate to the site. For example: Southwest of Niquette Bay State Park; approximately 20 ft. from shoreline; sandy lake bottom. More information is better than less.
Thank you!