Lake Ripples - January 2009
Forage Fish Declines Seen

Regular annual assessments of forage fish revealed a substantial decline this past summer. Forage fish in Lake Champlain provide the prey base for trout and salmon. The decline in the forage base was most notable in Mallets Bay and the Northeast Arm of the lake. Catch rates dropped by 77% in Mallets Bay and 95% in the Northeast Arm! Declines in the Main Lake were less dramatic but still substantial. The decline correlates with the exploding population of alewives following the introduction of this invasive exotic species. Rainbow smelt, previously the dominate forage fish in the lake, have been largely supplanted by the alewives.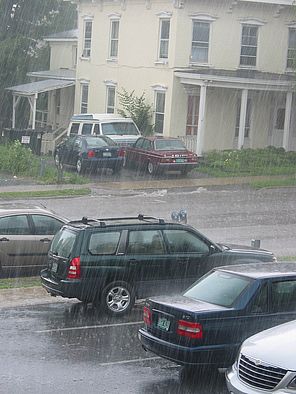 The city of Burlington has passed a new ordinance to improve their stormwater management. Under the ordinance, which takes effect April 1, the city will charge a fee based on the amount of stormwater generating surfaces a property has. Single-family homes, duplexes and triplexes will be assessed a flat fee each year -- about $37 for single-family homes. Institutions and businesses, will pay a fee based upon the impermeable surface area of their properties. The greater the area of hard surfaces -- such as rooftops, parking lots, and driveways -- the higher the fee will be. The money collected will be used to treat Burlington's stormwater and help the city comply with federal and state laws to protect water quality.
LCC has long advocated for stormwater fees or utilities to pay for stormwater management. Absence of a consistent, dedicated funding source has repeatedly been cited as the key impediment to treating stormwater in communities around the country. South Burlington has already implemented a similar approach. The Lake Champlain Committee endorsed the ordinance and will continue to offer support to the city as it moves forward on this important water quality initiative.
To learn more about how your community can manage stormwater go to our website for a downloadable copy of The Stormwater Smart Growth Connection (pdf, 6.8 MB).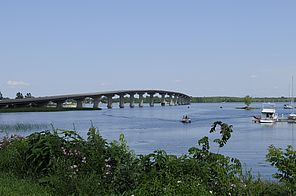 The Lake Champlain Committee helped organize and has been meeting regularly with a group of interested individuals and groups to develop a specific plan to direct clean-up efforts around the South Lake. The South Lake refers to the river-like, roughly 30-mile section of the lake from the mouth of the Poultney River to the Crown Point Bridge. It has an average width of only .67 miles. Despite draining 15% of the basin's land area and comprising a third of the total lake length, it contains only .6% of the lake's water.
It has long been recognized, along with Missisquoi Bay and St. Albans Bay, as the portion of the lake requiring the most work to meet water quality standards. Yet, until now the South Lake has lacked the same kind of concerted focused effort to reduce pollution loading as are found around Missisquoi and St. Albans. LCC and the South Lake group participants are working to improve nutrient reduction efforts, enhance bi-state cooperation in dealing with lake issues, and provide an ongoing forum for South Lake problems. Please contact us if you'd like to become further involved.
Paddlers Fees and Invasive Species <br> Vermont Bill H.15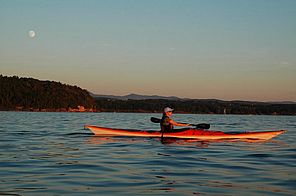 A bill has been introduced in the Vermont House to allow for rapid response to new aquatic invasive species that might enter the state. The bill calls for a general permit and creates a rapid response fund for any management activities associated with rapid response. The fund would be established by requiring all boats to show an aquatic nuisance control sticker. Stickers would cost $20 for motorboats and $10 for non-motorized water craft including canoes, kayaks, sailboats, sailboards, rowboats, paddle boats, and rafts. LCC supports the bill provisions associated with improving the state's capacity for rapid response to invasive species management, but feels that a fee on paddle craft is not an appropriate mechanism for funding the proposal. The risk of introduction of invasive species associated with paddle craft is likely substantially smaller than it is with motorboats that can host plant fragments on their props and trailers and in their live wells.
Legislatures have long sought to collect money from paddlers in order to fill holes in the Fish and Wildlife Department budget. LCC has advocated for dedicating a portion of the sales tax to meet that need.
Universal fees on paddle craft are a poor means of generating revenue. Requiring registration of canoes and kayaks discourages a healthy form of family recreation. Some paddlers own multiple boats so that registration fees could soon exceed those of motorboats, while other paddlers are much more casual, taking only one or two outings per year. A sticker requirement could serve as a deterrent for the casual user. Three states, Arizona, Alaska, and Michigan, have instituted registration fees on paddle craft only to rescind them later because the cost of administering the program exceeded the revenue generated.
LCC recognizes that paddlers make demands on the system when they use public boat launches, therefore we would support a bill where the fee for use was associated with use of the launches rather than universally applied to all non-motorized boats. Pennsylvania currently has such a system, where only those boats launching from public access areas must be registered.
We welcome your input so please send your ideas to us at lcc@ lakechamplaincommittee.org.
Sea lamprey Wounding Rates Down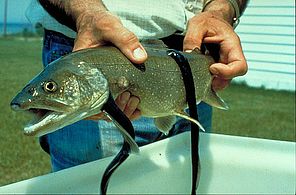 For the first time since Lake Champlain fisheries agencies restarted the sea lamprey control program in 2001, it looks as if the program's target wounding rates might soon be met. Sea lamprey populations in Lake Champlain are surveyed by counting the number of lamprey wounds on lake trout and salmon sampled during the fall. The past year's sampling saw wounding rates drop to 31 wounds per 100 lake trout (target – 25) and 35 wounds per 100 salmon (target – 15). These represent drops of 34% and 51% respectively over 2006 wounding rates.
The dramatic decreases follow substantial kills of sea lamprey during treatment of the Ausable River Delta and Poultney River in 2007. It may be reasonable to expect that with the treatments this past summer on Mill Brook and its delta, the Great Chazy, Mt. Hope Brook, and the Missisquoi River, the agencies may meet their target wounding rates next summer.
January Lake Look – What Champlain Saw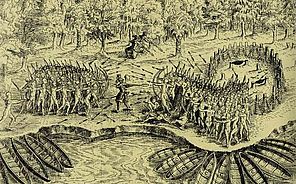 In 1609, four hundred years ago, Samuel de Champlain first set his eyes upon the lake to which he later assigned his name. Some of what he saw remains unchanged, some is completely different, and some of what he thought he saw he did not actually see.
Champlain came seeking war. He had agreed to assist the Native American tribes of the north, the tribes with which he had been trading and cooperating, in their battle against the Iroquois. Champlain's war party initially consisted of members of the Montagnai, Ochastaiguin, and Algonquin tribes as well as eleven other French soldiers. By the time the group reached Lake Champlain it had shrunk. First, disputes between different factions of the tribes about battle plans led to a split and some warriors returning home. Second, when the war party reached the falls on the Richelieu River at what is today Chambly, Champlain found that the rapids were much more extensive than had been described. The Frenchmen had been travelling in large heavy boats which could not be easily transported around the falls. Instead, Champlain called for volunteers and two of the eleven agreed to accompany him in canoes. Eventually, 24 canoes containing a total of 60 men made it to Lake Champlain. The rest returned to Quebec. MORE
Natural History Note - Lake Ice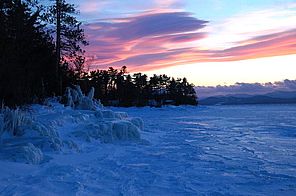 Clear, cold, windless nights present ideal conditions for the actual freezing of ponds and lakes. The clear skies mean no cloud cover blanket to trap heat radiated away from the earth over night. Colder air allows more heat to be transferred from the water. Absence of wind means that once the ice begins to form, wave action stirred by the wind will not interrupt the process.
Two different types of ice cover can form depending on conditions at the time of freezing. Ice formation can be rapid with as much as five miles of ice forming on one river in only fifteen minutes. When a skin of ice forms all at once like this and then continues to grow from the initial start, it is called sheet ice. Sheet ice tends to be smooth and relatively homogenous, though cracks will appear. Alternatively, separate masses of ice can fuse together forming agglomeritic ice. Two conditions that promote formation of agglomeritic ice are when wave action or other turbulence prevents a continuous sheet from forming but it is so cold that freezing occurs anyway, or when sheet ice breaks up and then reforms.
You can see both types of ice on the lake. Be careful in your explorations. Always skate with others, have buoyancy on you (wear a life vest or have sealed bags in your backpack), wear ice prods or claws, carry an ice pole and a rescue line, bring dry clothes and read up on ice safety before venturing out.
Please keep us posted on your Email Address Changes
LCC's primary form of communication with members is through email. By mailing electronically we save time and resources and reinforce the stewardship ethic of our mission. We will never give away or sell your email address. Please keep us up to date on your email changes. To ensure that our messages get through to your inbox, please add lcc@ lakechamplaincommittee.org and the domain enews.lakechamplaincommittee.org to your safe/allowed list and address book.
Let us know if there is anyone whom you think would enjoy getting our Ripples E-News bulletins and please, forward it on to colleagues, friends, and relatives that share your passion for the lake. We welcome your comments and suggestions for topics to include in future issues. Click here to send us your feedback. Thanks!