The Farm Bill and the Lake
Apri 2012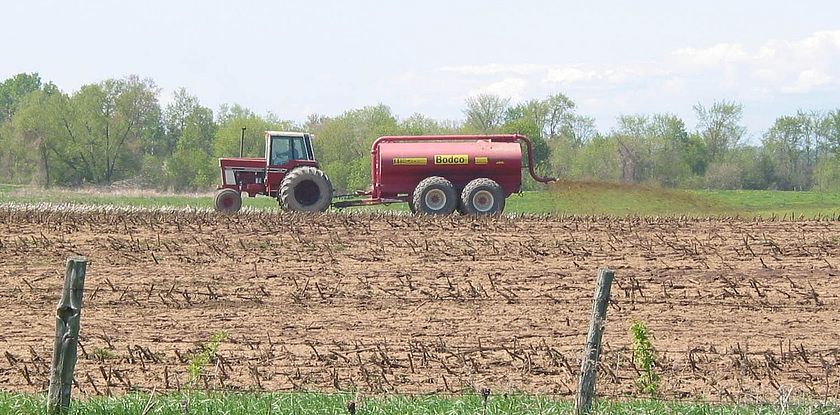 On March 9, 2012 a field hearing of the House Agriculture Committee convened in Saranac Lake, NY to hear from agriculture producers on their views of the Federal Farm Bill. Every five years Congress has to reauthorize the federal Farm Bill. The current version expires at the end of September, so this year's reauthorization coincides with an election year. The labyrinthine complexities of the bill are stupefying, but three areas stand out in their importance to protecting water quality in Lake Champlain: conservation programs, supply management, and support for diversified agriculture.
The Farm Bill is a massive hodgepodge of federally funded programs. Editors of the Atlantic called the Farm Bill, "the Olympics of U.S. food and agriculture policy," in the preface to a recent series on the topic. "The federal government awards medals in the form of billion-dollar budgets that will determine what foods we eat and how we grow them." A small portion of the overall funding, less than 6%, goes to conservation programs. Over $25 billion subsidizes the five principal commodity crops grown in the country: corn, soybeans, wheat, rice, and cotton. The bulk of the appropriations, about two thirds of total funding, don't even go to farms, but rather to feeding the poorest in the community, leading food activist Michael Pollan to call for renaming the legislation the Food Bill.
Conservation programs in the Farm Bill are critical to efforts to protect water quality in Lake Champlain. The programs help reduce soil erosion, enhance water supplies, improve water quality, increase wildlife habitat, and reduce damages caused by natural disasters. The website of the Natural Resources Conservation Service lists 15 separate programs, each targeting a different geographic area, management practice, or desired environmental benefit. The largest of these is the Environmental Quality Incentive Program (EQIP) which provides financial assistance to help plan and implement conservation practices.
Supply management has been systematically stripped from past Farm Bills over the years. Beginning in the 1970s, programs to control prices lost favor. It used to be that the government would buy surplus farm products and store them to even out prices between good and bad years. Additionally, the government would provide subsidies for fallow land. By 1996 these policies were gone, and as a result farmers began cultivating more land; 15 million more acres of corn and soybeans in 1997 compared to 1995. This led to gluts in excess food and lower prices paid to the farmers. To compensate, farmers cultivated more land, creating a vicious circle from which we have not escaped.
Instead of conservation incentives, the government began offering to offset the difference between the cost of production and the market value of crops. These "emergency farm payments" became permanent starting in the 2002 Farm Bill. "Farm programs that allow prices to fall below production costs and then pay farmers some of the difference with taxpayer dollars are really subsidizing meat-packers, factory farms and food processors," according to the advocacy group Food and Water Watch.
There have been some movements to supply-management in the dairy economy recently. As part of the current bill Congress is considering the Dairy Market Stabilization Program which prevents farmers from being paid for a portion of their milk if the difference in cost between milk and feed falls too low. This provides an immediate signal to reduce production. However the program has met stiff resistance from larger producers and marketers in the Midwest. The current version of the program is voluntary which advocates worry could undermine its intent.
One critique of the existing Farm Bill is that it does too little to support diversified agriculture. For example, programs that provide crop insurance are more difficult to negotiate for farmers with multiple crops rather than monocultures. Increasing avenues for farmers to produce healthy fruits and vegetables could reduce dependence on dairy in the Champlain Valley while still supporting agriculture.
To address this problem, an important amendment, the Local Farms, Food, and Jobs Act, has been introduced by Senator Sherrod Brown (OH) and Representative and organic farmer Chellie Pingree (ME). The bill offers a package of reforms to support small farms and local agriculture throughout the country. Among other things, the proposed act would help schools buy local produce, reduce blockages that currently prevent institutions from buying local, bolster marketing and promotion of farmers' markets, enable the poor to more easily access farmers' markets and other sources of local food, and expand nutrition education.
Policies enacted in the Farm Bill reach far and wide into every community affecting food prices at supermarkets, cropping decisions on local farms, and water quality in Lake Champlain. Attempts to remediate agriculture pollution problems at the state and local level eventually run into the realities of the Farm Bill. Federal policy is a critical driving force behind the economics that shape individual farmers' decisions about what to plant and how much to plant. The next Farm Bill must preserve and enhance conservation programs, support local agriculture, and take steps to reduce overproduction of commodities. Make sure your congressman knows these are important things to consider for the next Farm Bill.
Lake Look is a monthly natural history column produced by the Lake Champlain Committee (LCC). Formed in 1963, LCC is the only bi-state organization solely dedicated to protecting Lake Champlain's health and accessibility. LCC uses science-based advocacy, education, and collaborative action to protect and restore water quality, safeguard natural habitats, foster stewardship, and ensure recreational access.
Get involved by joining LCC using our website secure form (at www.lakechamplaincommittee.org), or mail your contribution (Lake Champlain Committee, 208 Flynn Avenue - BLDG 3 - STUDIO 3-F, Burlington, VT 05401), or contact us at (802) 658-1414, or lcc@ lakechamplaincommittee.org for more information.