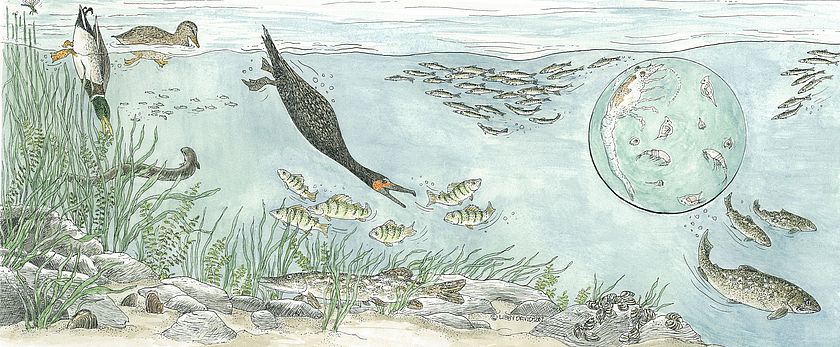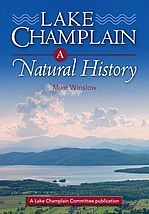 Why do clouds hang low over the lake on autumn mornings? Where do invasive species come from and how do they arrive? How might global warming affect Lake Champlain's future? How did the lake get here?
The answers can be found in LCC's award-winning book Lake Champlain: A Natural History co-published by the Lake Champlain Committee (LCC) and Images from the Past (IfP). Short essays in six intriguing chapters cover the lake's origins and present day setting, the forces that define the region, the phenomena that add to its mystery, the "living lake" of plants and animals, and the lake's future.
Written in a light, engaging style by LCC staff scientist Mike Winslow with black and white photographs and detailed pen and ink illustrations by Libby Davidson, the book will help people discover and understand the lake's rich and diverse resources. The book builds on a series of monthly columns, "Lake Look", which LCC has distributed to its members and local and regional newspapers since 2002. Lake Champlain: A Natural History is one of LCC's officially designated Quadricentennial projects. The publication won an IPPY silver medal for regional publication.
"This book goes a long ways toward educating anyone who loves the sight of Lake Champlain," notes author and environmentalist Bill McKibben. "Mike Winslow and Libby Davidson, with clear and lucid prose and accurate, charming illustration, answer dozens of questions that have occurred to me over the years, and better yet they answer questions it hadn't even struck me to ask. This is less like a field guide, and more like having a wise naturalist along with you on a trip."
"(R)eaders will come away with a better understanding and appreciation of this great lake", said the Rutland Herald (10/28/08).
Retailing for $18.95, the 7" x 10" 160-page soft cover publication is accessible both for its content and price.
We are currently out of stock and awaiting re-prints. If you order now, delivery may be delayed for several months.