Water News from Near and Far
Continued Low Lake Levels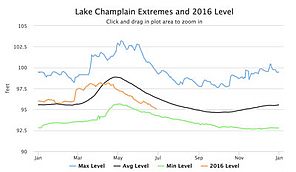 Lake Champlain remains about a foot below its average level for this time of year. The lake has been low all year and the current level is a result of a steady downward trend. Low lake levels present a hazard to navigation. Rocks and reefs usually covered by water lie just below the surface. Boats have trouble using some launches where levels are too low. Weed growth might be thicker in areas where sunlight reaches the bottom in places it wouldn't penetrate at typical lake levels.
The main driver of the low lake levels was the absence of significant winter snow fall. Mt. Mansfield for example had one half its normal snow pack. In an appearance on WCAX-TV, hydrologist Greg Hanson of the National Weather Service estimated that it would take a three to four inch rainstorm across the entire region to bring levels back to normal.
Lake Champlain usually reaches its lowest level in September or October, so we can predict the lake will keep dropping. We are still a long ways from setting a record for low lake levels. The August low level record of 93.32 feet was set in 1949, while the September low level record of 92.90 feet was set in 1941. The all-time low level record was 92.61 feet on December 4, 1908.
Fines for Manure Overflow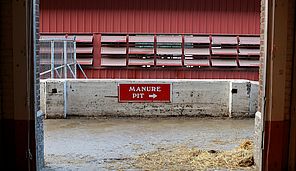 An overflowing manure pit in Brandon has cost a local farmer $24,000 in fines. The Vermont Attorney General assessed the fines to a farm owned by William and Robin Hanfield after finding their manure pit overflowed on at least three separate occasions. The manure ended up in a tributary of the Neshobe River. The case began when the Hanfields requested a temporary exemption from Vermont's ban on spreading manure in the winter. That request led to an inspection that discovered the overflow. The farm had already been asked many times to deal with the issue, but had failed to do so. The Hanfields became the third farm this year to pay fines for violations of environmental regulations.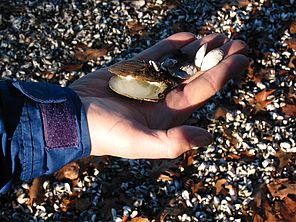 A high pressure hot water boat wash unit is being piloted at Shelburne Bay to help spread the transport of aquatic invasive species (AIS). The unit uses water at 140 degrees F to kill AIS that may be hiding out in livewells, bilge water, and motors.
Lake Champlain has 50 known invasive species. All boaters should check, drain and dry boats away from water before moving from one waterbody to the next. The high pressure spray unit can help flush out boat compartments and be used to swiftly clean high risk vessels coming from infested waters to Lake Champlain. The pilot project is a partnership effort of the Lake Champlain Basin Program (LCBP) and the Vermont Dept. of Environmental Conservation. Watch this video for a demonstration of the unit.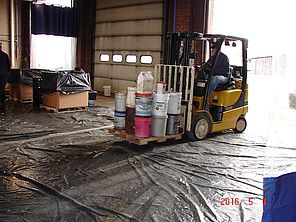 This past spring New York Department of Environmental Conservation (NY DEC) conducted a "CleanSweepNY" program in the Adirondack region that collected 36,787 pounds of unwanted pesticides and other chemicals for proper disposal. The event focused on Clinton, Essex, Franklin, Fulton, Hamilton, Saratoga, Warren and Washington Counties and collected chemicals from 82 participants. The collection included 11,467 pounds of pesticides, 10,857 pounds of school chemicals, 7,672 pounds of paint, 6,785 pounds of motor oil and other liquids, and 6 pounds of elemental mercury, as well as 143 mercury-containing devices, and 285 aerosol containers.
This CleanSweepNY event was the 20th since the program's inception in 2002. Over 1.5 million pounds of chemicals and over 860 pounds of elemental mercury have been collected and properly disposed through the successful program. In addition, NY DEC collected approximately 5,000 plastic pesticide containers for recycling which may otherwise have been disposed of in landfills.
CleanSweepNY was initially established with approximately $2.2 million from several enforcement settlements in NY DEC's Pest Management program. Services are available to agricultural and non-agricultural professional pesticide applicators, schools, and certain businesses which use pesticides such as golf courses, cemeteries and marinas. Registration and appointments are required in order to participate.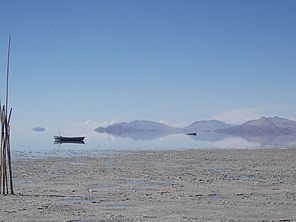 Lake Poopó, once Bolivia's second largest lake, is disappearing. Decades of drought and water diversions have shrunk the lake to a mere shadow of its former self. The Uru-Murato people that lived along the shore and fished the lake have become climate refuges, seeking new homes and sustenance. For generations the lake underwent a predictable cycle of receding and filling. A dry spell in the 1990s caused the waterbody to shrink enough to form three separate pools, but the lake did return to its original size. Several trends led to the lake's present diminished status. First, the growing global market for quinoa, an Andean grain, led to water diversions from the lake to support agriculture. Second, sediment from mining operations increased the amount of silt entering the lake. Third, rising temperatures increased evaporation from the lake. In the decade between 1995 and 2005, the average temperature of the region rose by 1.6 degrees Fahrenheit. You can read more about the impacts in this New York Times piece.