Water News from Near & Far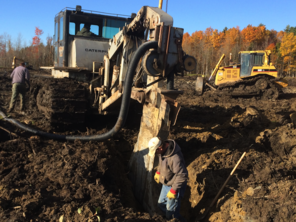 Vermont Public Radio picked up on an item in our last ENews about LCC's advocacy for a moratorium on tile drains. They interviewed Staff Scientist Mike Winslow who noted "We know that there's a lot of phosphorus coming out of tile drains and that it's in a form that's really available to for algae growth, so we're concerned about it as a source of pollution that is currently not regulated by the required agricultural practices."
Getting Outside – Crown Point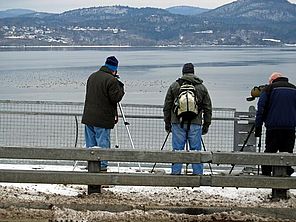 Local journalists have been heading to the southern part of Lake Champlain to report on outdoor winter activities on and around the winter. Lohr McKinstry reported on changes in the ice fishing community as a result of warmer winters and changes in fish populations in the Plattsburgh Press Republican. Ice fishing is "pretty hard to do with no ice in the main part of the lake and no smelt to catch. I miss those days, and the community misses them," noted Moriah Town Supervisor Thomas Scozzafava in the article.
Lawrence Pyne reported on the flocks of winter ducks congregating at the ice edge and attracting birders between the Crown Point Bridge and DAR State Park in Addison, VT for the Burlington Free Press. The handful of birders he joined in early January found "hundreds and hundreds of the usual late-season suspects on Lake Champlain — goldeneyes (whistlers), lesser scaup (bluebills), common mergansers, mallards and black ducks — as well as such less-common visitors as canvasbacks, redheads, greater scaup (broadbills), bufflehead and white-winged scoters, a type of sea duck that in Downeast Maine are affectionately known as skunkheads."
We may not be experiencing a typical winter, but there are still plenty of opportunities to get out and enjoy the natural world.
Permanent Lake George Boat Inspections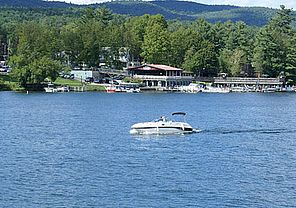 The Lake George Park Commission has had a mandatory boat inspection program for the last two years. All boats entering the lake must first be inspected for the presence of invasive species. The program is an attempt to keep new invaders out of the lake. The program is modeled after a similar effort in Nevada's Lake Tahoe. Commissioners now want to make the program permanent. In order to do so they must undergo a state environmental review process and the commission voted to begin that process at their January meeting. There will be a public meeting on the matter on March 28 at 4PM in the Bolton Town Hall.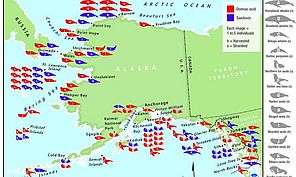 Researchers went looking for evidence of algae toxins in Alaska, and found that they were widespread. They tested samples from more than 900 animals that were harvested or found stranded between 2004 and 2013. Animals studied included whales, walruses, sea lions, seals, porpoises, and sea otters. Toxins were found in all species tested.
They looked for domoic acid and saxitoxins in marine mammals from coastal waters around the state. Domoic acid is produced by some diatom species and causes amnesic shellfish poisoning of people who eat contaminated shellfish. Saxitoxins are one of 50 different compounds produced by dinoflagellates and cyanobacteria. They also can accumulate in shellfish and cause paralytic shellfish poisoning.
The scientists had not expected to find so many toxins, but since no one had looked before, they can't say if their findings represent an increase in algae toxin production. They also do not know if the toxin levels found were high enough to have health impacts.
First Reported Toxic Algae Bloom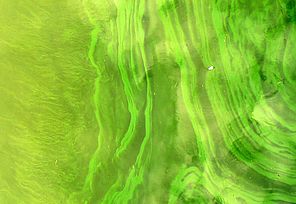 In the late 17th century Englishman Christopher Kirkby, a merchant, traveler and lay scientist, described his trip to Tuchomskie Lake in Poland. He noted that dogs, cattle, and birds died after drinking water from an area of the lake with a "hairy efflorescence." Horses that drank at a clearer portion of the lake showed no ill effect. Kirkby submitted an account of his observations to the Philosophical Transactions of the Royal Society in London in 1672. The paper was recently unearthed by scientists at Flinders University in Australia, and is believed to be the first scientific account of a toxic algae bloom. The previous record for oldest account came from 1878 on the Murry River in Australia and appeared in the journal Nature. Of course, toxic algae blooms have existed for much longer than that, evidence of potentially toxic species has been found in ancient sediment cores, but the mechanism for describing them in scientific publications wasn't always available.