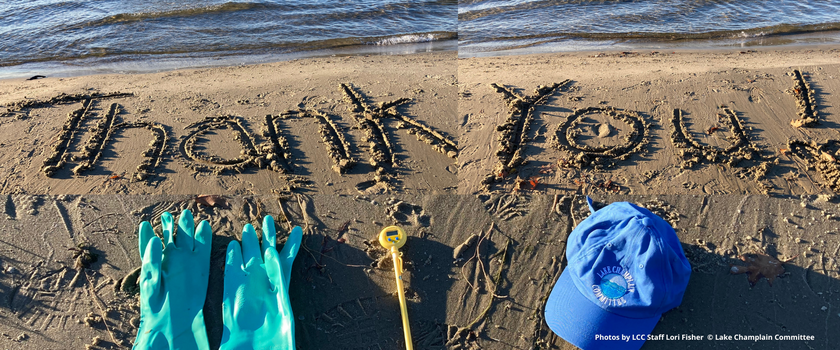 Sincere thanks to our wonderful team of 2022 cyanobacteria monitors and partner organizations. Monitors faithfully checked Lake Champlain and inland lake locations in wind, rain, sleet, and sun during a 20-week long monitoring season and filed over 2,500 reports on water conditions.
Please join us for the 2023 season if you have some free time every week during the summer and fall and want to give back to a waterbody you love. You'll receive training in the spring, a cool t-shirt and hat, and support throughout the monitoring season. By volunteering you'll gather important data to aid research, keep community members apprised of water conditions, and help strengthen and expand the monitoring program. We are looking for monitors for both Lake Champlain and inland lakes. If you're interested, please sign up here.
Deep thanks for standout efforts to 2022 monitors and partners:
Kate Abrams, Rachel Adkins, Nikki Albertson, Ellen Albertson, Judd Alexander, Jeffrey Allen, Reuben Allen, Maisy Anderson, Nancy Andrews, Christy Aucoin, Rick Baker, Janine Banks, Mary Jane Banyi, Kelly Beerman, Kurt Behrens, Peter and Marion Benevento, Jim Bennett, Jerilyn Bergdahl, Jeanette Berry, Dana Bishop, Eileen Blackwood, Susan Boston, Joe Brayden, Tom Brayden, Phil Brett, Sean Brown, Kathy Buck, Ryan Buckley, Holly Bull, Jen and Sylvia Burkman, Richard Butz, Gail Butz, Robert Caldwell, Christine Cano, Gary Carlson, Danny Carmichael, Allan Carpenter, Lori Charash, Frédéric Chouinard, Oksana Ciolko, Catherine Collin, Emily Conant, Julia Crocker, Carol Crosby, Alfred Cumming, Joanne and John Cwikla, Sandi Detwiler, Valerie Dillon, Dan Dowling, Christina Duell, Susan Dunning, Kevin Farrar, Cailin Ferrari, Dan Field, Patrick Finn, Lori Fisher, Kayla Fitchette, Eileen Fitzgerald, David Forbes, Nathalie Fortin, Teresa Gerade, Mark Gibson, Adam Grundt, Marie-Hélène Guillemin-Batchelor, Stephen Hale, Lynne Hale, Carol Hanley, Graham Hawkes, Pamela Hebert, Ryan Heck, Rick Hedding, Matthew Herberg, Chris Herrington, Colleen Hickey, Cathy Hickory, David Holland, Al Holmans, Vicki Hopper, Eric Howe, Chuck Hulse, Jill Hurst, Bob Ierardi, Houston Illo, Peter Isles, Jim Jackson, Lauren Jenness, Rei Jia, Suzy Johnson, Jamie Johnson, David Johnson, Alec Kaeding, Jaine Kellogg, Tim Kiely, Jason Kirchick, Marty and Doug Kiser, Gary Kjelleren, Jason Koginos, Monica Lalime, Steven Langevin, Lydia and Martin Lee, Derick Lind, Jamie Longtin, Merrily Lovell, Thomas Lukas, Jennifer Martinez, Jon McBride, Don McDowell, Peter McKee, Quentin McKinley, Walter Medwid, Bill Meredith, Noelle Mesbah, Cindy Meyer, Andrew Milliken, Irina Mirsky-Zayas, Mark Mitchell, Meg Modley-Gilbertson, Sandy Montgomery, Brady Mueller, Sandy Murphy, Karen Neeson, Elisa Nelson, Bridget O'Brien, Charlotte O'Brien, Deb O'Loughlin, Erin O'Mara, Maureen O'Neil, Alison Parker, Bill Parkhill, Dorothea Penar, Chree Perkins, Dan Petherbridge, Susan Poirier, Chip Porter, Fran and Spencer Putnam, Connor Quinn, Gail Rafferty, Lois and Rich Rawson, Virginia Renfrew, Alison Rogers, Elisabeth Rondinone, Joshua Rourke, Molly Ryan, Mackenzie Sackett, Emily Scheidt, Andy Schulz, Glenn Schwartz, Laurie Sedlmayr, Nobuko Sera-Kingsley, Angela Shambaugh, Daniel Sharpe, Cathy Sheffield, Julie Silverman, Berney Skutel, Gary Slawson, Martha Smiles, Paul Smith, Kayleen Snyder, Naomi Hudgson, Cynthia and Randy Stacey, Michael Stahl, Pete Stangel, Elliot Stevenson, Shawna Stone, Pamela Strohmeyer, Ken Sturm, Peggy and Perry Teillon, Mary Jo Testor, Jim Todd, Dick Tonino, Jeff van den Noort, John Van Dijk, Matt Vaughan, Meaghan and Robert Vickery, Susan Vigsnes, Chris von Alt, Steve Walsh, Barbara and Jim Wanner, Debra Welsh, Kiki and Greta White, Emily White, Chuck Woessner, Caroline Wolfe, Chip and Jo Wright, Carol Yarnell, and Carmen Zwack.