The Future of Agriculture in the Champlain Basin - Time for a Switch?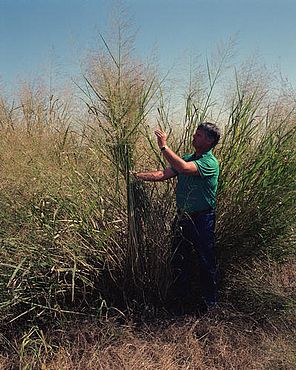 September 2009
The future will not look like the past. Such is true for the lake and the landscape. Rather than trying to recreate some hypothetical past utopia, we need to work towards a mutually desirable future state that is better than what we have. Agriculture may present the most significant opportunity today for envisioning and moving toward a desirable future state. Currently, agriculture in the Lake Champlain Basin is dominated by dairy production, but that may not be true in the future.
The dairy industry presents inevitable challenges to water quality. Cows produce manure which is high in phosphorus and bacteria. Cows, at least during the winter and on larger farms, eat corn, an annual crop that leaves much of the soil exposed and susceptible to erosion. Corn and other crops used to feed cows require inputs of additional phosphorus fertilizer which is a pollutant when it gets to the lake. Cows that are pastured instead of eating corn have a tendency to trample vegetation in their search for drinking water, directly contributing to erosion. All of these challenges can be managed and minimized, but they can not be eliminated.
Meanwhile, the market for milk has plummeted and it is more and more difficult to maintain a viable dairy farm. Milk consumption has stagnated and exports have been cut in half since the recession began. As a result, farmers receive less money per gallon of milk than it costs them to produce it. Politicians are repeatedly asked to provide bailouts to help farmers survive until milk prices increase; in essence to perpetuate a dying industry.
Environmentalists must recognize the importance of economics in the management of farms when considering tools to reduce their impacts on water quality. Historically, environmentalists have turned to regulations as a means of reducing impacts. In the absence of a strong market for the farm's products, compliance with regulations becomes secondary, particularly if the farmer sees them as spurious.
If dairy farms go out of business, will they be replaced by land uses and industries that are better for the lake or worse? If housing subdivisions grow on abandoned dairy farms, the lake will likely suffer, as developed land typically contributes more pollution than agricultural land. If abandoned farms grow to forests, the lake may benefit, but our community may suffer. Poll after poll shows that people value the mix of working landscape and forest that would be lost, not to mention the contributions that working farms make to the region's economy.
The ideal alternative to dairy would produce less pollution, maintain the scenic vistas that define the region, and generate a positive income for landowners. The best candidate for meeting these criteria that I have heard of is the growing of switchgrass as a pelletized bio-fuel. Our climate is ideal for growing grasses; switchgrass requires fewer inputs than corn; switchgrass is a perennial crop so fields are left fallow less often; and fields of switchgrass preserve scenic vistas and may allow simultaneous pasturing of a smaller number of cows.
According to agronomist Sid Bosworth of the University of Vermont switchgrass has a number of advantages as a bio-fuel over other grasses. Switchgrass has a high summer growth rate, not something I would want for my lawn, but an advantage for a crop. It tends to produce less ash when burned; excess ash reduces the heating efficiency of a fuel and is a limitation for any grass as a fuel compared to wood. Switchgrass requires less fertilizer per acre than other grasses.
Switchgrass does have some drawbacks that need to be addressed. Bosworth notes that it establishes slowly so start-up costs might be high, and it does not grow well in very poorly drained soils that typify some parts of the Champlain Valley. More generally, there are currently a limited number of facilities for processing the grass into a pelletized fuel. Even more daunting, a stable market for the final product needs to grow. However, given the cold winters of the northeast and growing interest in renewable energy, there is clearly potential for such a market.
Change is necessary in the Champlain Valley's agriculture as a response to economic as well as ecological factors. Switchgrass may not be the best option, but should certainly be considered as part of a mix of options to help wean our agricultural industry's dependence on dairy. Whatever form the new agriculture takes, the future of the region and of the lake may be completely different from what we see now. We can not avoid change, but we need to guide and direct it so that we preserve the most important aspects of what we have.
Lake Look is a monthly natural history column produced by the Lake Champlain Committee (LCC). Formed in 1963, LCC is the only bi-state organization solely dedicated to protecting Lake Champlain's health and accessibility. LCC uses science-based advocacy, education, and collaborative action to protect and restore water quality, safeguard natural habitats, foster stewardship, and ensure recreational access.
Get involved by joining LCC using our website secure form (at www.lakechamplaincommittee.org), or mail your contribution (Lake Champlain Committee, 208 Flynn Avenue - BLDG 3 - STUDIO 3-F, Burlington, VT 05401), or contact us at (802) 658-1414, or lcc@ lakechamplaincommittee.org for more information.