Cyanobacteria Monitors
Each summer LCC trains and oversees citizen monitors to report on cyanobacteria conditions in their area. This program provides critical data on where and when blooms are happening and helps inform public health officials as to whether the water is safe for swimming. In 2012 our volunteers began submitting observations of conditions rather than collecting water samples. This has allowed us to expand the program over a broader swathe of the lake without increasing costs, and it avoids volunteer contact with the cyanobacteria blooms themselves.
LCC trains volunteer monitors to distinguish cyanobacteria, sometimes called blue-green algae, from other floating phenomena, know what to do if a bloom occurs, understand cyanobacteria's ecological and health effects, and take actions to reduce the frequency of blooms. Volunteers commit to report on water conditions from the same site once per week from mid-June through Labor Day. Repeatedly visiting the same location throughout the season provides a more accurate picture of water conditions. Volunteers submit observations via LCC's online form and this information is compiled on the cyanobacteria tracker map housed at the Vermont Department of Health. If you are interested in being a volunteer monitor or supporting this program, please fill out our cyanobacteria training form or email or call the LCC office at (802) 658-1414.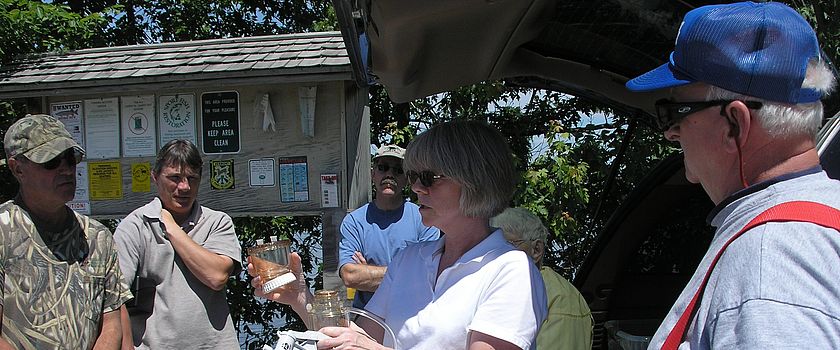 In 2011 the program received the Citizen Scientist Green Mountain Environmental Award. The awards were created by ECHO Lake Aquarium and Science Center and FreePressMedia to recognize environmental stewards and initiatives that have shaped, inspired, encouraged and supported successful and long-term leadership of Vermont's rich and diverse natural environment.
WEEK OF JULY 10, 2016 CYANOBACTERIA MONITORING RESULTS
The information below represents the results from the latest reporting. Be aware that conditions can change rapidly and be watchful of the water and avoid blooms. We received 121 reports from monitors in the last week.

Lake Champlain Monitoring Sites
Mixed conditions were reported from around Lake Champlain as the high temperatures and still waters provided good conditions for algae growth. Blooms were reported in the north, central, and south parts of the Main Lake and beaches in the Burlington area were closed sporadically through the week. Blooms can pop up at any time in any place, and conditions change rapidly so be alert and avoid visible algae scums. The breakdown of the number of reports we received by lake section is below.
Missisquoi Bay – 6 reports – no reports of blooms
St. Albans Bay – 4 reports – no reports of blooms
Inland Sea – 14 reports – no reports of blooms
Malletts Bay – 2 reports – no reports of blooms
Main Lake North – 16 reports – blooms were reported from Pt. Au Roche State Park and Comfort Bay in Beekmantown on 7/11. Both stations cleared by the next day.
Main Lake Central – 44 reports – sporadic blooms were reported throughout Burlington and Willsboro. Conditions in Willsboro appear to have cleared, but blooms continue to occur in the Burlington area.
Main Lake South – 17 reports – mixed conditions with a low alert bloom in Essex, NY that cleared the next day and a bloom in Ferrisburgh that lasted two days, but cleared by 7/14.
South Lake – 3 reports – no reports of blooms

Other VT Lakes
Lake Carmi – 7 reports of generally safe conditions.

Lake Iroquois – 3 reports of generally safe conditions.

Lake Memphremagog – 3 reports of generally safe conditions.
Monitoring Locations
Here is a partial list of past LCC monitoring locations. Please help us expland the list by becoming a monitor.
South of Crown Point Bridge

Allen Bay, Orwell
McCuen Slang, Addison
Lapham Bay, Shoreham
South Main Lake
Arnold Bay
Ferrisburgh Town Beach
Hawkins Bay
Kingsland Bay State Park
Town Farm Bay
Long Point
Charlotte Town Beach
Burlington Area

Starr Farm Beach
Leddy Park, Burlington
North Beach, Burlington
Community Sailing Center, Burlington
Oakledge Park, Burlington
Red Rocks Park, South Burlington
Shelburne Bay Boat Launch
Shelburne Beach
Inland Sea and Islands

Maquam Bay boat launch, Swanton
North Hero State Park
Knight Point State Park
The Gut
Carry Bay - Savage Point
Grand Isle State Park
Vantines Boat Launch
Marycrest Beach
White's Beach
Sandbar State Park
St. Albans Bay
Georgia Shore
St. Albans Bay Park
St. Albans Bay Boat Launch
Missisquoi Bay

Shipyard, Highgate Springs
Chapman Bay, Alburgh
Donaldson Point
Route 78 Fishing Access
New York - Essex County

Westport Boat Launch
Camp Dudley, Westport
Beggs Park Essex
Willsboro Boat Launch
Buena Vista Park, Willsboro
Teddy Bear Point Cove, Willsboro
New York - Clinton County
Wilcox Dock, Plattsburgh
Plattsburgh City Beach
Treadwell Bay, Beekmantown
Pt. Au Roche State Park swim beach, Beekmantown
Pt. Au Roche State Park Deep Bay, Beekmantown
Pt. Au Roche Boat Launch
Malletts Bay
Niquette Bay State Park
Camp Kiniya