Asian Clam Is Not Our Jam
Lake Champlain is home to 51 known non-native and aquatic invasive species (AIS), from zebra mussels and alewife to water chestnut and Eurasian watermilfoil, but not yet Asian clam. Invasive species are not native to the Lake Champlain Basin and can compete with native species for space and food, clog water intake pipes, and limit recreational activities.
Asian clam (Corbicula fluminea) is a bivalve—it has two thick pale to dark brown shells that are fairly symmetrical and rounded to triangular in shape. The animal is typically less than an inch in diameter, between the size of a dime and a nickel. The clams have distinct growth rings—if you run your fingernail along a shell, you'll feel coarse ridges and hear a washboard percussion instrument-like sound. Asian clams are easily confused with native fingernail clams or pea clams (genera: Musculium sp., Pisidium sp., and Sphaerium sp.), which generally have asymmetrical shells, are smaller in size, and are banded, not ridged.
Asian clams are filter feeders at the bottom of the food chain: they feed by siphoning organisms like phytoplankton (microscopic plants) and zooplankton (tiny animals) from the water column. These invasive organisms live on the surface or slightly buried in the sand and gravel substrate of lake and river bottoms. Asian clams compete with native mussel species, like eastern elliptio and eastern lampmussel, as well as juvenile game fish and small native fish species for food and habitat. Under the right conditions—well-oxygenated water and water temperatures around 60 degrees Fahrenheit or higher—a single Asian clam can release hundreds of microscopic larvae per day or 35,000 larvae per breeding season; adult Asian clams reproduce one to three times per year and live for one to five years. Additionally, Asian clams are hermaphroditic, meaning they are able to self-fertilize—the introduction of one Asian clam can create a new population. Because Asian clam larvae are free-floating, they can travel great distances via water currents and wave action. The life cycle and adaptations of Asian clam make it a successful invader, which is why early detection and rapid response are important spread prevention techniques.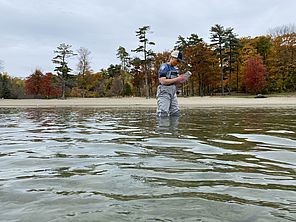 Native to southern Asia, Africa, and parts of Australia, Asian clam was first detected in our region in Lock 8 of the Champlain Canal in 1998; the 60-mile canal connects the Hudson River to southern Lake Champlain. Though not present in Lake Champlain, Asian clam was detected in nearby Lake George, New York in 2010 and Lake Bomoseen, Vermont in 2016—both of these waterbodies drain into Lake Champlain. In response to these threats, the Lake Champlain Committee (LCC) has partnered with Michael Lew-Smith of Arrowwood Environmental and the Winooski Valley Park District since 2018, to survey areas of Lake Champlain for the presence of Asian clam and to conduct education and outreach about the organism. Though COVID-19 safety measures prevented us from surveying alongside a large group of enthusiastic volunteers in 2020, we assessed shoreline sites with small, physically-distanced, and masked groups. LCC staff and partners conducted surveys at high priority locations in the LaChute River (below Lake George and east of Ticonderoga Village), as well as sites in Dresden, Whitehall, Ticonderoga, Crown Point, and Moriah, New York. Vermont locations included the Castleton and Poultney Rivers near Fair Haven, Catfish Bay in Orwell, the LaPlatte River mouth in Shelburne, and Chittenden County area beaches. Happily, no Asian clams were detected!
Humans are the primary vector of transportation, be it by boat, fishing equipment, or aquarium dumping. There has been limited success in controlling populations of Asian clam via benthic mats (rubber or PVC barriers that suffocate the clams by decreasing the amount of available dissolved oxygen). The most effective way to address the spread of Asian clam is early detection. For those looking ahead to boating when waterways warm up, here are some spread prevention measures recommended by the Vermont Fish & Wildlife Department: "Drain all water from your boat, canoe, kayak, and other vessels and equipment used in the water. Clean off any mud and plant fragments and dispose of properly. Dry all damp areas of boats and vessels, such as live wells and bilges, with a towel and let air dry in the sun for at least five days before using in another waterbody. If this is not possible, rinse equipment with hot, high-pressure water." Whether an individual, nonprofit, governmental agency, or commercial entity, we all play a role in preventing the spread of aquatic invasive species.
LCC helped draft the Rapid Response Protocols for AIS, was a charter member of the Lake Champlain Basin Program's Aquatic Invasive Species Task Force, and has extensive experience working to control AIS in Lake Champlain. If you're interested in helping LCC monitor for aquatic invasive species during the 2021 season, we'd love to have your help! Please fill out our General Volunteer Response Form and check the box for "Aquatic Invasive Species Monitoring & Harvesting" in the interest section.
LCC's Asian clam assessment work is made possible by the support of LCC members and the Vermont Aquatic Nuisance Control Grant-in-Aid funding from the Vermont Department of Environmental Conservation.