2022 Weekly Cyanobacteria Emails to the Community
Click on each weekly report header to access the full report and photos.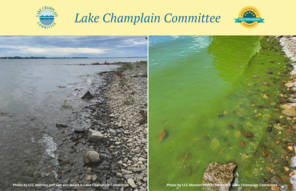 Thank you for signing up to receive the Lake Champlain Committee (LCC) Cyanobacteria monitoring reports! Monitoring began the week of June 19 and will run through early fall. Each week we'll send you an update about conditions monitors are finding around Lake Champlain and several inland lakes. Your weekly emails will usually be sent on a Friday or Monday of the following week but your next email will come out on Tuesday, July 5. This week's report covers conditions from Sunday, June 19 through Saturday, June 25, 2022. Clear water dominated on the cyanobacteria tracker for Lake Champlain for the first week of monitoring during the 2022 season but several inland waterways experienced blooms.