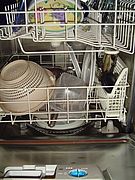 Keep the lake in mind when loading your automatic dishwasher and use phosphorus-free detergent. Check the labels on the products you buy to ensure the brand you choose doesn't include phosphorus to avoid sending excess nutrients into our waterways.
Research and lobbying by LCC led to passage of legislation in Vermont to ban phosphates from household dishwasher detergents in 2010. Similar legislation in NY was introduced earlier this year (S.3780 and A.8914) but has not yet passed. According to independent studies by Consumer Reports, phosphate-free automatic dishwasher detergents work as well as those with phosphates.
For more lake friendly tips, check out the Learn and Get Involved sections of our website and consider taking our Lake Protection Pledge. Read...