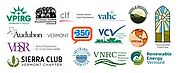 Monday, October 4th 2021
To the Vermont Climate Council,
...Significant parts of the world are literally on fire, and big portions of the rest of the nation are (or were recently) underwater. Vermont itself has recently missed being hit by not one but two massive tropical storms by mere miles, and earlier forecasts for the path of both Henri and Ida warned they might go directly through our state. And, of course, Vermonters are already experiencing more extreme heat and heavy precipitation events climate scientists have predicted for years. Read...