Bricks Alive! Scientists Create Living Concrete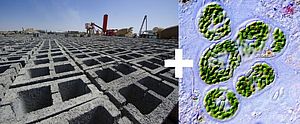 Photosynthetic bacteria, gelatin, and concrete are the building blocks of a new type of material: living concrete! Researchers at the University of Colorado, Boulder, funded by the Department of Defense, formed the new substance. Minerals in the concrete are deposited by cyanobacteria; in contrast to the typical greenhouse gas-emitting process required in the production of regular concrete, cyanobacteria absorb carbon dioxide through the photosynthetic process. The living concrete has the ability to incorporate common materials, like ground glass and recycled concrete, in place of virgin sand. The substance might be helpful in remote or severe environments, where it can be difficult to transport building materials. The field of synthetic biology is burgeoning with new options for our built environment.
Click here to read the full article on the New York Times website.