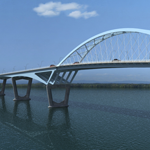 New York and Vermont officials are looking for input today on the design for the new Lake Champlain Bridge. Six designs for a replacement bridge have been proposed and you can vote for your favorite through midnight tonight. The 80-year-old Lake Champlain Bridge, which spans the state line between Crown Point, New York and Chimney Point, Vermont, was closed in October after inspections revealed it was structurally unsafe. State officials have determined that rehabilitating the bridge is not feasible given the extensive deterioration, moving the bridge location would entail too lengthy an environmental review process, and replacing it with a permanent ferry would not meet the needs of the community.
LCC is participating in the bridge review process. We are advocating for a thorough, thoughtful plan for both bridge demolition and construction that minimizes and mitigates environmental impacts, includes bike and pedestrian corridors on the new bridge, and ensures the design fits with the surrounding lake and landscape.
Six designs were unveiled at meetings held in Ticonderoga on Saturday. You can check them out on-line, complete a survey providing feedback on the alternatives and submit ideas on how to commemorate the historic bridge, which was shut down in October. The survey will only be available until midnight Monday December 14. We like the "Network Tied Arch Bridge" designs as the basket handle arch best emulates the pleasing lines of the old bridge, it complements and fits within the setting, and is less expensive and easier to maintain than some of the other proposals.
The old bridge will be demolished using explosives in the next several weeks. A new bridge is anticipated to be open by the summer of 2011 at a cost of roughly $65 million. Read...