Culling Cormorants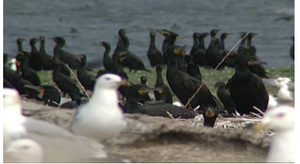 WCAX TV - "A shorebird with an intense appetite and destructive droppings is on the decline in Lake Champlain. A multi-year effort by Vermont Fish and Wildlife, the New York DEC, and private land owners to reduce the cormorant population appears to be paying off."
Pictured, a group of cormorants congregate on a small rocky island on Lake Champlain.
Click here to read the full article at the WCAX TV website.