LCC Volunteer Spotlight: Susan Keefe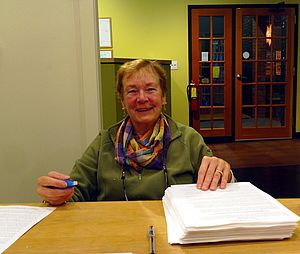 Have you received mail from LCC lately? If yes, chances are LCC volunteer Susan Keefe's fingerprints are on it! Susan has been visiting the LCC office regularly during the last few months to help with a variety of mailings and administrative tasks. A Waterbury native and retired high-school English teacher, Susan began volunteering at LCC with her husband Richard Gaull. "My husband was actually the one who volunteered and I went along out of curiosity," says Susan. Susan helped LCC staff and other volunteers get over 10,000 pieces of mail out about the lake during the summer. Everyone at LCC appreciates her sense of humor, flexibility, and willingness to lend a hand wherever it's needed.
In addition to volunteering at LCC, Susan is an avid reader who helps out at a local school. LCC members for six years, she and Richard recently moved from Woodstock to South Burlington and are enjoying the city and being closer to the lake. "Lake Champlain is a significant asset in Vermont," says Susan. "It faces challenges regarding its future and I want to do whatever I can to help those people who work for its well being." Whether cruising on their trawler, taking day trips on the lake, or swimming with family, Susan immerses herself in the lake frequently.
Volunteers are essential to LCC's mission of protecting Lake Champlain's health and accessibility. From Trail stewards and water quality monitors to helping out in the office and at events, volunteers play a critical role in LCC's programs and outreach. Love the lake and have some time to share? Please complete LCC's online volunteer response form to let us know your interests and availability.