Other Water News From Near and Far
Coming Clean on Lake Champlain
Learn more about the plan Vermont's Governor Shumlin and state agencies are outlining to protect and improve water quality in this panel discussion hosted by the Champlain Valley League of Women Voters. Panelists include David Mears, Commissioner Vermont Department of Environmental Conservation; Chittenden County Senators Ginny Lyons and Diane Snelling, and Lake Champlain Committee Executive Director Lori Fisher.

Algae Blooms Can Increase, Not Just Respond To, Nutrient Levels
It is well known that high levels of nutrients in the water promote algae blooms, but new research suggests that the presence of blue-green algae can also lead to higher nutrient levels. Researchers working in Lake Sunapee in New Hampshire, a low nutrient lake that experiences regular blooms, found that blue-green algae are particularly good at harvesting nitrogen and phosphorus from sediments and bottom waters thus increasing the availability of these nutrients in the water column. The effects of this deserve more attention, the researchers suggest, because climate change is also driving an increase in algae blooms, particularly in lakes where they were not prevalent historically.

Algae recycle nutrients from the sediment making blooms more common. Photo by Lori Fisher.
Wisconsin Farms Reduce Water Pollution Without Affecting Their Bottom Line
Long-time lake advocates often get frustWrated with the slow progress in reducing pollution loading. Sometimes people wonder if all the money invested in farm conservation practices ever lead to a reduction in pollution. It can, at least according to research coming out of Wisconsin. A seven-year project there implemented conservation practices such as reduced tillage and changes in cropping practices on 10 of 61 farms in a sub-watershed of the Pecatonica River. They targeted the improved practices to high-risk fields. The changes led to 4,400 fewer pounds of phosphorus and 1,300 fewer tons of sediment entering the waters annually. Better yet, participating farmers experienced no reductions in crop yields as a result of implementing the practices. Researchers suggested farmers need to be given time to adapt and identify best management practices that fit their individual systems.

Water quality protections improve farm production. Photo by Mark Godfrey, The Nature Conservancy.
Courts in Wisconsin and Washington Rule Manure a Pollutant
Two recent court cases support the idea that manure is a pollutant rather than a resource and thus must be managed as waste. On December 30th the Wisconsin Supreme Court overruled an appeal court decision and declared that manure contaminating a well is a pollutant. The case was brought to the Supreme Court by the farmer's insurance company, who was seeking to avoid paying damages for the well contamination. As a result of the ruling, the farmer may be on the hook for any personal or property damage resulting from contamination. The lower court had ruled that manure is not a waste product to farmers. The Supreme Court determined that the spreading of manure (which had been done in compliance with a nutrient management plan) was not the problem, but once it entered the neighbors' well it did become a pollutant. On January 14th a federal judge in Washington decided that manure poses a significant public health risk by contaminating water supplies. The ruling allows a case to proceed to trial where the court will be asked to determine the extent of water contamination. This represents the first time that a federal judge has ruled manure a solid waste subject to the Resource Conservation and Recovery Act (RCRA). In both cases the manure was determined to be a pollutant because of the impact of nitrates on groundwater drinking sources, rather than because of issues of surface water runoff.

Nitrogen pollution in wells traced to over application of manure. Photo by Mike Winslow.
Diabetes Drugs in Lake Michigan Can Affect Fish
Levels of the diabetes drug metformin in Lake Michigan are high enough to cause hormonal changes in fish. Metformin is the most commonly prescribed drug of its kind for treating type 2 diabetes. There are detectable traces of the drug even two miles off shore from Milwaukee. Researchers at the University of Wisconsin-Milwaukee exposed fanhead minnows to levels of the drug equivalent to what was measured in Lake Michigan. After four weeks, the endocrine systems of the fish had been disrupted; males produced female hormones. Researchers concluded that overlooked chemicals like metformin cannot simply be ignored with an assumption that they will dilute to harmless levels in large waterbodies.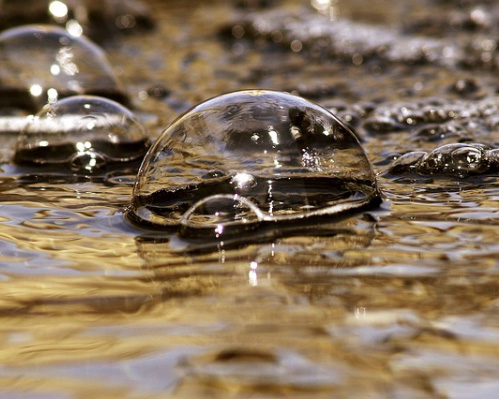 Pollution from a common diabetic drug may be poisoning fish. Photo by Pixabay.