Cyanobacteria Monitoring Training Sessions - 2024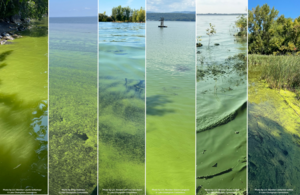 Every spring and summer LCC trains and oversees community science volunteers to report on cyanobacteria conditions in their area. This program provides critical data on where and when blooms are happening and helps inform public health officials as to whether the water is safe for swimming. In 2012, our volunteers began submitting observations of conditions rather than collecting water samples. This has allowed us to expand the program over a broader swathe of the lake without increasing costs, and it avoids volunteer contact with the cyanobacteria blooms themselves.
LCC trains volunteer monitors to distinguish cyanobacteria, sometimes called blue-green algae, from other floating phenomena, know what to do if a bloom occurs, understand cyanobacteria's ecological and health effects, and take actions to reduce the frequency of blooms. Volunteers commit to report on water conditions from the same site once per week from mid-June through mid-fall if possible. (Cyanobacteria blooms are occurring later in the year so we are looking for monitors who can continue assessing conditions into late October if possible.) Repeatedly visiting the same location throughout the season provides a more accurate picture of water conditions. Volunteers submit observations via LCC's online form and this information is compiled on the cyanobacteria tracker map housed at the Vermont Department of Health.
If you want to become a monitor, please fill out the cyanobacteria monitoring interest form and select a training session.
Currently scheduled training sessions for Spring 2024:
RETURNING MONITOR TRAINING - Tues., - 5/14/24 - 9 a.m. to 11:30 a.m. via Zoom
RETURNING MONITOR TRAINING - Tues., - 5/14/24 - 6 p.m. to 8:30 p.m. via Zoom
NEW MONITOR TRAINING - Wed., - 5/15/24 - 9 a.m. to 12:00 p.m. via Zoom
NEW AND RETURNING MONITOR TRAINING - Wed., - 5/15/24 - 2 p.m. to 5:00 p.m. via Zoom