Blue-green Algae Monitoring Season Recap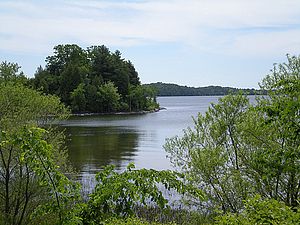 LCC's 2013 blue-green algae monitoring season ran for 12 weeks from June 15 to September 6, an increase of two weeks over previous seasons. This year we received a total of 675 reports including 557 from 54 regular monitoring locations that reported more than six times, 93 'supplemental' reports, and 25 late-season reports received after September 6. The vast majority of reports from our regular monitoring locations (94.1%) indicated no algae blooms present with 4.0% of reports indicating low level blooms and 1.9% indicating extensive blooms. Volunteer monitors' reports were used to guide public health decisions about when to close beaches and were used to populate the Vermont Department of Health's status map of blue-green algae conditions on the lake. The only long-term major bloom in the US portion of the lake was seen on St. Albans Bay the last two weeks of August. Other reports of blooms were short-lived and widely scattered. Sincere thanks to our terrific blue-green algae monitors and project partners (see article below).
The monitoring program had an educational value that transcended the weekly reporting. LCC held informational and training sessions for a wide variety of groups. Over 200 people were trained to assess water conditions, distinguish blue-green algae from other lake phenomena, and categorize bloom conditions. In addition to the citizen monitors, LCC trained municipal lifeguards and recreational personnel, water facility operators, parks' managers, and other health and recreation staff and interested citizens. Everyone who attended a training session left able to communicate about blue-green algae and the potential risks they pose.
Volunteer monitors assessed blue-green algae conditions using a three-tiered visual system outlined at the training sessions and in the training materials. They identified conditions at their site as 'low risk of blue-green algae (category 1), 'blue-green algae are present in low numbers' (category 2), or 'blue-green algae are present in high numbers' (category 3). This system was developed in partnership with state environmental and public health agencies.
Of the sites monitored regularly, six were in Essex County New York, eight were in Clinton County New York, four were in Missisquoi Bay, eleven were around the Inland Sea and Islands (including one on the western shore of Grand Isle), four were in St. Albans Bay, one was in Malletts Bay, ten were in the Burlington area, seven were in the southern part of the Main Lake on the Vermont side, and three were south of the Crown Point Bridge.