Thank You Blue-green Algae Monitors and Partners!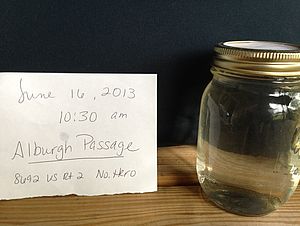 Over sixty volunteers trained by LCC headed lakeside on a weekly basis during the summer to observe water conditions and file online reports. Their data populated the blue-green algae tracking map housed at the Vermont Department of Health. The information the monitors provide is relied upon by public health and environmental officials to assess the safety of the lake for recreating (see "Blue-green Algae Monitoring Season Recap"). It's also adding to our body of knowledge about the triggers for blooms so we can work to reduce their frequency. If you'd like to be trained as a monitor for the 2014 season, sign up here.
Some of the monitors, like Mike Roach of Missisquoi Bay and Jim and Sally Brabham from Carry Bay in North Hero, have been monitoring conditions for LCC since we began the program over a decade ago. Tara Gibson and Dan Pettit check on three sites at Burlington's Oakledge Park, Jeff Clock monitors two different locations in Willsboro and new monitor Tim Etchells does the same across the lake in Ferrisburgh. When the blue-green algae bloom started in St. Albans Bay this year, monitor Brad Gooding offered to file daily reports to keep us posted on conditions not only from the sites he regularly monitored, but throughout the Bay. He drove the shoreline daily, talked to anglers and others on the water about conditions, and called or emailed the office with reports while the bloom persisted. The monitoring program wouldn't exist without the dedicated, enthusiastic involvement of all our volunteers and the generous support of Green Mountain Coffee Roasters and the Lake Champlain Basin Program and our project partners the New York and Vermont Departments of Health and Departments of Environmental Conservation. Hats off to: Ken Adams, Laurie Adams, Bob Adler, Bunny Adler, Reid Allen, Meg Anderson, David Andrews, Janine Banks, Mike Barsotti, Richard Bernstein, Bob Bogdan, Janet Bogdan, Dana Bolton, Matt Bondar, Liz Bosworth, Philip Brett, Ashley Brisson, Sarah Brown, Amy Calkins, Heather Campbell, Lucas Campbell, Gail Center, Sheila Chairvolotti, Andrew Chevrefils, Thomas Clavelle, Jeff Clock, Katharine Cody, Jordan Cota, Peggy Coutu, Charlie Crocker Jr., Kerry Crowningshield, Brin Daleykeyser, Colin Davis, Stephanie Demore, Paul Denison, Ed Devino, Deborah Diemand, Denise Duprey, Adam Emery, Betsy Etchells, Tim Etchells, Mary Evslin, Jim Fay, Dylan Foote, Aubrey Fulton, Tina Gardener, Erika Gehman, Bryon Gelineault, Tara Gibson, Sara Glickman, Brad Gooding, Phil Graziano, Danny Guay, Fred Guffey, Jen Guimaraes, Carol Hanley, Colleen Hickey, Ulrich Hodzinger, Michelle Hogaboom, Zach Holman, Eric Howe, Bill Howland, Harry Hudson, Bob Jackson, Cody Jackson, Kim Jackson, Neil Kammen, Mary Kerr, Stephanie Kirchberg, Carole Klein, Harold Klein, Lake Champlain Community Sailing Center Staff, Norton Latourelle, Susan Lawson, Jan Lega, Maggie Leugers, Kelley Levine, Wes Lewis, Andrew Lucia, Tom Mandeville, Bob Martell, Chris Mason, Maria Mayer, Heidi McNally, Will Meyer, Meg Modley, Pat Morton, Erin Moreau, Mary Jay Mullowney, Nick Neverisky, Kenneth Norland, Maureen O'Connell, Gerry O'Connor, Ingrid O'Connor, Jacob Partlow, Robert Peisch, Martha Perry, Rob Peterson, Dan Pettit, Mia Elizabeth Pinheiro, Sherry Potvin, Larry Pratt, Josh Rhoades, Karla Rieger, Mike Roach, Julie Roulston, Lew Sanders, Wendy Saville, Paul Sears, Angela Shambaugh, Jessica Shields, Mary Simmers, Mike Smith, Frank Spaulding, Tom Stark, Matt Storey, Ken Sturm, Ben Truman, Trudy Vezina, Berrett Walter, Eric Wolinsky, Michael Wood, and Peter Young.