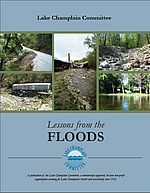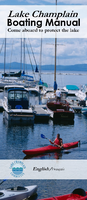 Lake Champlain Boating Manual
LCC's bi-lingual Lake Champlain Boating Manual provides guidance on boating safely and responsibly. It includes tips on refueling, boat sewage and greywater disposal, preventing the transport of invasive species, and boat cleaning and storage. The English and French publication, is distributed to marinas around the Lake Champlain basin.
Click here for a downloadable English pdf of the Lake Champlain Boating Manual.
Click here for a downloadable French pdf of the Lake Champlain Boating Manual.
Lake Champlain Paddlers' Trail Guidebook
The annualLake Champlain Paddlers' Trail Guidebook and Stewardship Manual is an online publication available in June each year. Join or renew your membership for $45 or more to get the current edition.
The publication contains important information to guide your use and stewardship of the Lake Champlain Paddlers' Trail (LCPT) including:
over 40 site descriptions and informational chartlets;
launch site information;
land use ethics and low-impact camping guidelines;
tips for planning a safe trip;
contact lists and emergency phone numbers;
an equipment check list;
suggestions for how to become involved in LCC advocacy;
and informative articles on the Lake's cultural and natural history and current threats to its health.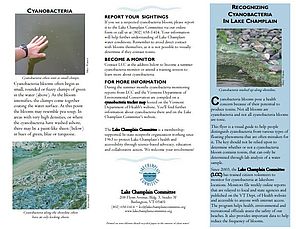 Cyanobacteria blooms have captivated public attention in part because of their potential production of toxins. But not all blooms are cyanobacteria and not all cyanobacteria blooms produce cyanotoxins.
LCC has produced a visual guide to various types of floating phenomena on Lake Champlain. It will help you distinguish cyanobacteria from other common accumulations of plant matter. The key should not be relied upon to determine whether or not a blue-green algae bloom contains toxins.
Below are links to downloadable PDFs of LCC's flier - Recognizing Cyanobacteria in Lake Champlain:
-Online Version
-Printable Version
The Stormwater Smart Growth Connection
The impact of stormwater pollution on Lake Champlain is of significant concern. Smart growth principles can help in the management of stormwater. The Lake Champlain Committee, along with the National Wildlife Federation and the Vermont Forum of Sprawl, has produced The Stormwater Smart Growth Connection (pdf, 6.8 MB) to explore the relationship between smart growth principles and stormwater management. The booklet is meant to assist planning efforts in communities throughout the Lake Champlain Basin.
Dishwasher Detergents and Phosphorus
The document Contribution of Phosphorus from Automatic Dishwasher Detergents (ADDs) to Lake Champlain (pdf), completed in 2004, helped build the case for banning phosphorus in automatic dishwasher detergents. It's estimated that ADDs generate about 60 metric tons of phosphorus in the Champlain Basin each year. Even assuming 90 percent removal efficiency at wastewater treatment facilities and 100 percent removal from septic systems there are still two to three metric tons of phosphorus entering Lake Champlain solely due to dishwashers. Since the report was published, several states including Vermont have passed legislation banning the use of phosphorus in ADDs.
Urban Stream Awareness In Lake Champlain Basin
A curriculum guide for high-school teachers, this 55-page publication provides ideas for learning activities and community projects organized into ten lessons. To order a copy, please call the LCC office at (802) 658-1414 or send us an email at lcc@ lakechamplaincommittee.org.